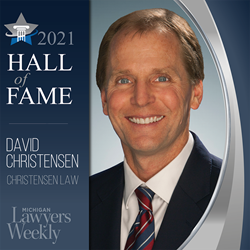 "If I can help, either by refining the process, the machine, or by fiercely defending victims' rights, then I will have made a contribution of value. I'm lucky to be able to do that."
DETROIT (PRWEB) March 10, 2021
David Christensen, founder of Michigan personal injury law firm Christensen Law, has been named to Michigan Lawyers Weekly's (MILW) Hall of Fame Class of 2021. This special award recognizes 21 Michigan legal leaders (in practice for at least 30 years or who have reached the age of 60) for their successful careers and valuable contributions to the community. On April 13, 2021, MILW will host the 4th annual Hall of Fame awards ceremony as a virtual online event.
Christensen has amassed an extensive body of work during his 30 years in personal injury law and is equally regarded as an extraordinarily successful trial attorney and a man of principle and compassion. His approach is kind and empathetic, his agenda no more than first to listen, to understand, and only then to assess. It has become not only his hallmark but also a constituent tenet upon which he has built his firm – interweaving care and support throughout every aspect of the practice. "I try to put myself in the place of my clients," says Christensen. "It helps me understand their anxiety, their pain, and their needs, so I can best help them."
Throughout his career, he has represented thousands of clients against many of the largest insurance companies and corporations in America, achieving record verdicts in multiple counties, including a $17.8M traffic accident injury verdict, the largest in the history of the State at the time (2014). He has tried over 65 jury trials for personal injury and wrongful death cases and represented clients before the Michigan Supreme Court.
A recognized authority who has helped shape Michigan's no-fault law, Dave is perhaps more widely known for his work on injury trials and especially on those involving traumatic brain injury (TBI). He first encountered brain injury cases at a large firm where his name was one of many on the door and where, for over 22 years, he established a successful practice. Working with the Brain Injury Association of Michigan and other TBI-focused institutions broadened his depth of understanding of the realities of TBI survivors and resulted in significant awards in this arena. In 2014 Christensen opened his own firm, and their caseload today is more than 50% TBI-related, with many jury trials each year, and a long list of multi-million-dollar verdicts.
Beginning in 2016, Christensen was asked to chair the Scope and Course of Discovery Subcommittee of the Michigan State Bar's Civil Discovery Court Rule Review Special Committee to overhaul the civil discovery process as part of a larger effort concerned with court rules of litigation. A 2-year process, the comprehensive examination of the outmoded discovery rules (unchanged in over 35 years) resulted in extensive changes to pretrial procedures and took effect in January 2020.
Notably, Dave also participated in a Washington DC think tank supporting state court systems, the National Center for State Courts. In 2013, he was invited to work with an elite group of state supreme court justices, legal administrators, Fortune 500 general counsel, and senior practitioners from major law firms comprising the Civil Justice Improvements Committee as commissioned by The Conference of Chief Justices to study and develop model policies and rules to make states' court systems more accessible. Over the course of 3 years and working with the Institute for the Advancement of the American Legal System, they authored a plan that would become a framework to restructure court systems throughout the country to be more efficient and expeditious in processing cases. It was adopted in 2016, expanding access to justice on a national level.
Throughout his practice Christensen has earned numerous awards, but some that hold special significance to him include being recognized as an American Board of Trial Advocates Inductee in 2016, the highest honor for a trial attorney, one of only 112 in Michigan. He has also earned an AV Preeminent® Peer Review Rating by Martindale-Hubbell, the highest rating for legal ability and ethics, and is a 5-year member of the National Trial Attorneys Association, Top 100 Trial Attorneys list. Christensen has also received notable community awards including the 2020 Civic Responsibility Award from Corp! Magazine and 2007 Deal of the Year, Non-Profit for his work with the Help Source Agency, 2007.
Video: Get to Know Christensen Law
ABOUT CHRISTENSEN LAW
Christensen Law is a preeminent Michigan law firm specializing in personal injury, traumatic brain injury (TBI), wrongful death, truck, car, and motorcycle accidents. With offices in Detroit, Southfield, Ann Arbor, and Grand Rapids, the firm's experienced trial attorneys have secured record-setting settlements and verdicts for accident victims throughout the state. The firm's ethos is rooted in empathy, as demonstrated by its commitment to compassionate client care and the support of local communities and charities. Christensen Law has received a First Tier ranking in Detroit in Personal Injury Litigation – Plaintiffs by U.S. News – Best Lawyers® for the 2021 Edition of "Best Law Firms." The firm is also recognized as a Martindale Hubbell AV Preeminent Law Firm.
Headquartered in Southfield, Michigan | davidchristensenlaw.com
25925 Telegraph Road, Suite 200
Southfield, MI 48033
248.213.4900
3049 Miller Road
Ann Arbor, MI 48103
734.890.5200
3205 Eaglecrest Drive, Suite 100
Grand Rapids, MI 49525
844.500.2888
The Ford Building
615 Griswold Street, Suite 515
Detroit, MI 48226
313.217.3000
FOLLOW US ON THE WEB