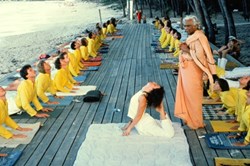 The journey to union with God is the journey to contemplation.
Nassau, Bahamas (PRWEB) December 01, 2013
The journey to union with God is the journey to contemplation. Each mystic has his or her own way on a journey they all have in common. Christian contemplative meditation has been practiced for 2000 years, and guided by the Holy Spirit, its practitioners have become the cutting edge in the evolution of the reality of the Risen Christ in the world. From Origin to Augustine to Aquinas to John of the Cross to Thomas Merton, great mystics have left us in their writings the rich fruits of their experiences of union with God. We can follow them and even add our own wisdom to their spiritual pathway. Discover the path of Christian contemplative meditation and learn how to add your own wisdom to the spiritual guidance the great mystics left us.
Father William Meninger, OCSO, one of the founders of the Centering Prayer movement, has been teaching contemplative prayer since 1974. Based at St. Benedict's Monastery in Snowmass, Colorado, he is the author of many books, including The Loving Search for God: Contemplative Prayer and The Cloud of Unknowing and the Process of Forgiveness.
Located across the bay from Nassau, on one of the finest beaches in the world, the Sivananda Ashram Yoga Retreat is an island paradise with a tropical garden, crystal clear water and pure white sands - a true sanctuary of peace and natural beauty. Recognized among world Yoga Retreats, the ashram offers year-round programs presented by world renowned speakers, as well as certification courses on various yoga related topics through which you can expand your knowledge, gain a new skill and get certified while enjoying a joyous yoga practice and blissful relaxation. The Yoga retreat center also offers year-round Yoga teacher training programs, Ayurvedic Yoga Therapy Courses, Yoga for beginners, Yoga vacations and many other courses.
For more information, please call 1-866-559-5167 or visit http://www.sivanandabahamas.org.