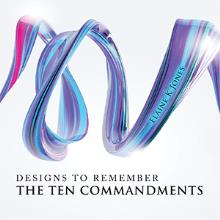 OMAHA, Neb. (PRWEB) January 21, 2019
According to curiousmatic.com, people are much better at remembering pictures rather than words. Elaine K Jones, who had to deal with a faulty memory, found a way to improve through doodling. Jones' book titled "Designs to Remember The Ten Commandments" (published by Xlibris) started with zentangle doodling during Bible study sessions and continued when she realized how the designs helped her to remember each of the Ten Commandments.
Each of the 10 designs in the book contain hints to identify each of the commandments. The designs have evolved, but the hints remained the same. They began as ink doodles, were changed to machine stitching, were re-designed for color quilt blocks and re-designed again for each commandment in the following pages. To purchase and to know more about the book, interested parties may visit
https://www.xlibris.com/Bookstore/BookDetail.aspx?BookId=SKU-001208746.
"There are studies on children's brains as they spend hours more on their iPads and technology based games and communication. Brains change depending on what people do. I'm suggesting that visual pictures help memory; it helped mine," Jones shares.
Ultimately, Jones hopes that through the book, readers can talk with knowledge referring to one of the commandments when they see someone struggling with keeping a commandment, and that they can do a quick thought reminding themselves what commandment might help guide them in their own life journey.
"Designs to Remember The Ten Commandments"
By Elaine K Jones
Hardcover | 8.5x8.5 in | 24 pages | ISBN 9781984566324
Softcover | 8.5x8.5 in | 24 pages | ISBN 9781984566317
E-Book | 24 pages | ISBN 9781984566300
Available at Amazon and Barnes & Noble
About the Author
Elaine K Jones is a native Nebraskan, growing up on a family dairy farm. She attended college for three semesters and worked in offices; was married and had two children. At the age of 40, she returned to university studies and graduated with a Bachelor of Science degree in Business and minor in advertising. She worked in areas of marketing, advertising and sales until retirement at age 65. With retirement, her new goal was to sew and saturate her family with quilts before she died. Saturation has included quilts to her children and their families including grandchildren, great grandchildren, extended family and friends. Her Fiber Art has won ribbons and awards, several have been in travelling art exhibits and she donates and sells other pieces. She belongs to the Cottonwood Quilt Guild, a small quilting group, a small fiber art group, S.A.Q.A (Studio Art Quilt Associates) and is active as a member of Northwest Hills UCC Church.