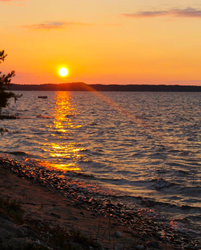 Being good stewards of this marvelous gift is absolutely essential. Rev. Eugene James, Christian Church (Disciples of Christ) Regional Minister in Michigan
LANSING, Mich. (PRWEB) October 25, 2018
With an overwhelming vote of approval, the Christian Church (Disciples of Christ) Michigan Regional Board approved United Camps, Conferences and Retreats (UCCR) becoming managers of Crystal Conference Center.
Crystal Conference Center, located on the shores of Crystal Lake in northern Michigan, has lodging accommodations and dining for up to 150 guests. It offers lakeshore beach, recreation, and gathering spaces on 128 acres.
UCCR will formally assume facility management responsibilities January 1, 2019 and will provide onsite management during the Conference Center season April 1 to October 31 with year-round services of reservations/bookings, marketing, human resources and financial budgeting. UCCR already has been providing Crystal marketing services through 2018 and began providing booking/reservations services on September 1, 2018.
"The camping programs at the Crystal Conference Center are a crucial ministry of the Christian Church in Michigan," said Eugene James, Regional Minister. "Being good stewards of this marvelous gift is absolutely essential. The decision to enter into a management agreement with United Camps, Conferences and Retreats is a very important action to enable the needed growth and expand utilization to realize the full potential of this incredible space. I am profoundly grateful to everyone who worked so hard to make this happen."
"United Camps, Conferences and Retreats looks forward to hosting guests at this beautiful conference center and as stewards of the property working with the Michigan Disciples of Christ," said Mike Carr, CEO of UCCR.
UCCR provides camp and retreat property management services includes: An on-site Director to manage the Conference Center, assist camps and groups, and operate the facility; On-site staff recruitment & management; Maintenance of facilities; Promotion and marketing; Group reservations and contracts; Accounting services.
The Michigan Disciples will continue its own outdoor ministry programs as it has for the past 100 years. They will appoint two representatives to the UCCR Owners Council as liaison members to the management organization, representing Crystal Commission and the Christian Church of Michigan.
UCCR, a non-profit cooperative formed in 1970, currently manages 13 camp & retreat properties throughout the United States.