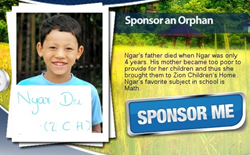 Boston, MA (PRWEB) March 06, 2014
A recently released video from Orphan's Tear revisits their achievements in 2013 and educates their sponsors and donators set goals for accomplishments in 2014 and beyond. According to the Christian Charities informational website Orphan's Tear is the orphan care ministry of Heaven's Family. It was created to help poor nations where social services are scarce and people struggle to feed their own children. In lieu of this people aren't open to raising additional children and orphans often find themselves fending for themselves, living on the streets, and going hungry. Helping 1,075 orphans in seven different countries in 2013 the video focuses on their three initiatives: self-sufficiency, kinship care, and foster care which has resulted in some notable accomplishments.
The first initiative the video introduces the viewer to is the self-sufficiency initiative where Orphan's Tear enables orphanages to become self-sufficient through income-generating projects. Some orphanages that Orphan's Tear assist have started various businesses that are able to support children residing with them. Christian Charities notes the three orphanages in the video are Living Hope, Rapha Orphanage, and Mephiboseth which are self-sufficient for a combined 17 children. A total of twenty nine orphanages started businesses in 2013, with the help of Orphan's Tear, ranging from caring for chickens and pigs to weaving.
The second initiative accomplished, presented in the video, is their kinship care initiative where Orphan's Tear helps keep families together. Utilizing various micro loans the Christian charity was able to not only help numerous families stay together but also helped seven families bring their children back from orphanages. Additionally, some other family members were able to secure a microloan care for previously orphaned grandchildren, nieces, and nephews. In all totality sixteen families were reunited with their loved ones as a result of microloans in the kinship initiative. Not all the time are families able to be reunited and as a result Orphan's Tear launched their last initiative.
The foster care initiative, covered in the video, provides orphans a family through partnerships Orphan's Tear creates. The biggest example of this is the partnership with AIM India in which six foster homes were started. Those six homes led to sixty orphans finding their forever families and are expected to become self-sufficient within the next four years. With all the accomplishments in 2013 they charity is looking to further their aid and have set ambitious goals for 2014.
Highlighted in the video their primary goal is to provide care for five hundred more orphans. Additionally, Orphan's Tear would like to help one hundred more children be reunited with their families, enable five additional orphanages to become self-sufficient, and to start five more foster homes. Some secondary goals for 2014 include starting a letter writing program and expanding their aid to a new country. The charity's contributions extend beyond helping orphanages and what Orphan's Tear accomplished in 2013.
The parent ministry, Heaven's Family, also contributes to orphanages and this is brought to light in a recent article titled "Children of Mt Carmel Orphanage in Haiti Receive Assistance From Heaven's Family" where they donated money to help a struggling orphanage gain access to fresh water. What is more, 100% of all contributions received by Orphan's Tear directly benefits orphans. For example, in 2013 the charity had an income of $326,712.40 and dispersed nearly all of it back to orphans by the end of the year contributing $306,256 by years end.
To date, Orphan's Tear has partnered with over 50 Christian orphanages boosting their resources so that they can better provide for the children under their care. They accomplish this through their child sponsorship program and children in the program eat better, sleep better, and do better in school. We've also been blessed to build scores of orphanage buildings that are a definite upgrade in To learn about their child sponsorship program and to see how for just $20 per month, a child can be provided with food, clothing, shelter, an education, and Christian nurture visit Orphan's Tear's website at http://www.heavensfamily.org/ot.
Anyone looking to view the entire video featuring all the accomplishments of the Orphan's Tear Christian charity should watch it here at: http://www.christiancharities.info/orphans-tear-2013-report/