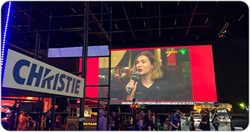 "A festival hosting the world's biggest entertainment brands and industry giants calls for an equally world-class projection."
SAO PAULO, Brazil (PRWEB) January 05, 2019
Christie®, a leader in creating and sharing the world's best visual and audio experiences, is pleased to announce that its Christie CP42LH cinema projector will be used at Comic Con Experience 2018 (CCXP), the largest pop culture event on the planet, which will be held from December 6-9 in São Paulo, Brazil, delivering the largest RGB laser projection to date in Latin America.
The screen measures 25 metres wide by 10 metres high and will be located in an outdoor space next to the São Paulo Convention and Exhibition Centre where the event is taking place. The screen will be used to broadcast live transmissions of everything happening at the show, as well as exhibiting promotional videos and interviews.
"A festival hosting the world's biggest entertainment brands and industry giants calls for an equally world-class projection," said Erico Borgo, Chief Geek Officer of Omelete Company, which was commissioned with organizing the event together with Chiaroscuro Studios and PiziiToys. "Counting on Christie as our partner gives us the reassurance that the quality is guaranteed," he added.
The RGB CP42LH laser projector which will be used to light up the screen is a 3DLP® technology solution with 4K resolution (4096 x 2160 pixels), delivering 60,000 lumens and high frame rates (HFR). It is a colourful, ultra bright solution for big screens that produces a colour spectrum beyond the DCI P3 colour space and complies with Rec. 2020.
The contents will be powered by Christie Spyder X80, the most powerful multi-window and multiscreen video processor and content management solution available, winner of Best Rental/Staging Product for Live Events at InfoComm 2017. It is the only video processor capable of handling 4K at a 60Hz refresh rate on a single channel.
And to ensure that the experience is even more spectacular, the sound of the screen will be reproduced with Christie Vive Audio, the Christie innovative product line designed and manufactured expressly for cinema theatres. This system offers an extraordinarily precise sound experience, and enhances to the maximum the dynamic range of audio for DCI digital cinema and is compatible with leading formats like Dolby Atmos® or 7.1 and 5.1 surround sound.
Christie's role as a partner at CCXP 2018 goes even further. A Christie pro AV projector with 13,000 lumens and Vive Audio speakers and amplifiers will be used for the projection on an 8x4 screen of a short film commemorating the 80 years since the creation of the character Superman. And in another space at the event, an orchestra will be performing some of the most famous soundtracks in movie history, delivered through Christie Vive Audio. Another Christie pro AV 13,000 lumens projector will be used to show scenes from these movies on a 10x5 screen.
The integration of all Christie systems to be used at CCXP 2018 will be carried out by the Brazilian company Ponto Midia, specialised in the installation of projection systems for big events.
"We feel particularly honoured that our RGB laser projection technology is behind the biggest screen of its kind in Latin America," explained Ricardo Laporta, Sales Manager, Cinema, Christie Brazil. "Our RGB laser architecture is a true revolution for the industry, offering incredible brightness. It is an excellent option for premium theatres that are seeking to differentiate themselves by offering their audiences a truly unforgettable cinema-going experience."
Comic Con Experience brings together professionals and companies in a gigantic celebration full of novelties from geek and pop culture. Last year the show welcomed an impressive 227,000 attendees, making it the largest Comic Con in the world and the biggest pop culture event in the world.
About Christie®
Christie Digital Systems USA, Inc. is a global visual and audio technologies company and is a wholly-owned subsidiary of Ushio Inc., Japan, (JP:6925). Consistently setting the standards by being the first to market some of the world's most advanced projectors and complete system displays, Christie is recognized as one of the most innovative visual technology companies in the world. From retail displays to Hollywood, mission critical command centers to classrooms and training simulators, Christie display solutions and projectors capture the attention of audiences around the world with dynamic and stunning images. Visit http://www.christiedigital.com for more information.