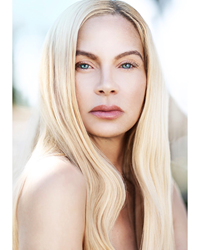 BEVERLY HILLS, Calif. (PRWEB) November 29, 2019
Actress and CEO Christina Fulton of the Nicolas Cage family and mother to their eldest son, Weston Cage Coppola, will host a Beauty + Give night Pop Up charity event, December 2nd, 2019 in the heart of Beverly Hills CA at Cristophe Salon.
Christina Fulton by Immortal Beauty Inc. and Cristophe Schatteman, hair master to celebrities and VIP clients, both have spent years understanding the needs and wants of beauty, wellness, and skincare throughout the world. On December 2nd, together they will host a celebrity gold carpet Pop Up event at the Beverly Hills Cristophe Salon. Christina Fulton by Immortal Beauty, Inc. is a technologically advanced, scientific luxury skincare line.
United, they will educate and inspire all night with ways to outrun the aging process. Come experience, touch, feel and hear what's next in skin, hair, and body care while doing good. BEAUTY. + GIVE.
Immortal Beauty, Inc. will benefit the 501(c)(3) Wags and Walks, a California dog rescue shelter aiming to foster and provide adoption programs alongside Saving Jane, a charity that supports survivors of human trafficking.
Christina Fulton's exclusive formula was developed and compounded by Christina and her partner, CEO Iki Sakakura, of Japan's Love Renaissance skin empire. Christina Fulton by Immortal Beauty Inc. takes advantage of years of Christina's knowledge and research, in addition to science, testing and technology using world-class masterminds from Japanese scientists, plastic surgeon, dermatologists, experts and a Caltech University biochemist. Together they have paved the way to slow down the way we age.
Sponsors include: Cristophe, Samsung, Paper Source, Francis Ford Coppola Winery, Queen V, H2Om Water, St. Germain, Village Pizzeria, The Camper Chef, The Caviar Co., Love Renaissance, WithASmile, FIDM, ban.do, Peroni, Nat Kidder, Revel Spirits Inc., Tito's Handmade Vodka, HEAVENSAKE, 101 Cider, Silent Pool Gin, Honey Bubbles and more!
Christina is not new to the world of being philanthropic and raising financial support and awareness for so many foundations globally. Her advocacy for single mothers landed her the ambassadorship to Casa Teresa, Haven Hills abuse shelters, anti-bullying, homelessness. In 2013 she was awarded by Congress, the Los Angeles Police and Los Angeles County Sheriff for her efforts to make a difference in the world.
Beauty + Give is the mantra that Christina Fulton and her company live by. Christina is creating an ecosystem where everyone, together, wins. Fulton says in a $455 billion beauty market, we all need to support each other in how we will live in our skin. With every product purchased from Christina Fulton's skincare company, proceeds will go to a charity that the public chooses.
This is a night of Beauty + Give.
https://christinafulton.com/
IG
@officialchristinafulton
@christinafultonskin
#Sk1nHack3r
#ChristinaFultonSkin
#ImmortalBeautyInc