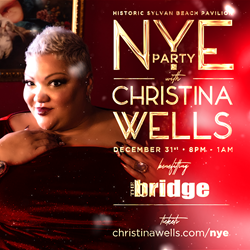 I can't wait to ring in the new year with you, and am thrilled to perform in such a gorgeous venue, with such incredible talent. We are ready to transport you to a world of holiday glitz and Bay Area glamour, with music, dancing and more--as we count down to 2022!
HOUSTON (PRWEB) November 18, 2021
Christina Wells, powerhouse vocalist and Houston native that rocketed to national notoriety as a semi-finalist on America's Got Talent, is thrilled to announce: New Year's Eve with Christina Wells at The Historic Sylvan Beach Pavilion. It will be a night of spectacular entertainment featuring Christina's full band, first-rate national and local performers, delicious food and more.
The stunning mid-century modern design of The Historic Sylvan Beach Pavilion promises to be the perfect backdrop for an "evening of elegance and entertainment." All ticket holders will have access to the lounge and deck areas with unhindered views of Galveston Bay.
In addition to special performers throughout the night, joining Christina on stage will be the Christina Wells Band. Her live band features vocalists LaBraska Washington and Raven Troup, Keith Lalonde on keyboard, Alan Simmons on bass, guitarist Ben Jarrad and percussionist Joe Beam. Mistress of Ceremonies is Bay Area icon, Kelly Williams- host of the Kelly Williams show! Opening the evening will be perennial Houston favorite, Teresa Zimmermann, with her high energy performance and dazzling vocals.
Guests are invited to enjoy a full cocktail bar, hors d'oeuvres buffet with carving stations and a champagne toast at midnight. Premier seating, reserved tables and VIP ticket packages available, as well as general admission. As with any Christina Wells production, giving back is an important aspect. Christina and Azalea Creek are proud to be able to give a portion of the evening's proceeds to local Bay Area non-profit, The Bridge.
Join Christina Wells, her live band, and a full line-up of performers for a night of music, dancing, beautiful Bay Area views and the most spectacular countdown experience in Houston!
View Packages + Purchase Tickets: https://christinawells.com/nye
About The Headliner- Christina Wells
The Houston native and powerhouse vocalist captured America's heart as a semi-finalist on America's Got Talent. She has appeared on stage as Sylvia of All Shook Up with Theatre Under The Stars, Motormouth Maybelle in Hairspray at Art Park Players in Deer Park, the Sour Kangaroo in Seussical, as well as headlining her own show, An Evening with Christina Wells at Miller Outdoor Theater! This year, she accomplished a dream of performing the National Anthem for all of Houston's premier teams: Texans, Rockets and Astros. Lastly, Christina Wells is thrilled to announce her upcoming performance playing Ursula in the Theatre Under the Stars production of The Little Mermaid!
Christina Wells' Social Media and Additional Music Media:
YouTube: https://www.youtube.com/channel/UCP3EfrdHbwLnRR4PvcoZKxw
Spotify: https://open.spotify.com/artist/1trZUoL3agsL3yqrtbasn4
iTunes: https://itunes.apple.com/us/artist/christina-wells/874289122
Facebook: https://www.facebook.com/singchristina/
Instagram: https://instagram.com/singchristina_
Twitter: http://twitter.com/singchristina
Website: https://christinawells.com/
About the Venue
The Historic Sylvan Beach Pavilion is like no other, from its timeless mid-century modern aesthetic to the unhindered views of Galveston Bay. This magnificently restored facility is a true treasure boating three Historical Landmark designations. The Pavilion features a 10,000 sf. Glass walled Ballroom with a 3,600 circular Dance Floor, accompanied by a spacious Lounge with a 360* indoor/outdoor Bar and expansive Deck overlooking the Bay. The Historic Sylvan Beach Pavilion is owned by Harris County and Managed in partnership with Azalea Creek, LLC.
Azalea Creek is a family-owned event & catering business serving Southeast Houston and surrounding areas. The Co-Founders, Managing Partners, and Mother & Son duo Janet Broughton and Jason Broughton have almost 30 years of combined experience in the foodservice industry. We are confident that our quality and service expertise will exceed your expectations. Additionally, Jason is an award-winning event designer. For almost two decades he has been planning, designing, and executing events across the country for Oil & Gas, Pharmaceutical, and Education industries as well as numerous municipalities and private celebrations. As a whole, we specialize in creating turnkey events of all sizes, creative problem solving and a unique user centric approach ensures memorable events guests will talk about for years to come.
About the Beneficiary
A Portion of the Event Proceeds will Benefit Local Non-profit, The Bridge. The Bridge assists men, women, and children affected by domestic and sexual violence, and/or homelessness in southeast Harris County, Texas.
The Bridge is a comprehensive crisis intervention and prevention center whose services include: a 100-bed emergency shelter, 10 units of transitional housing for women without children, 15 units of rapid re-housing, and 64 units of permanent housing for adults with disabilities and children in their care, extensive non-residential services, children's services including counseling and educational support, casework provided along the continuum of care, 24-hour crisis and referral hotline, and community outreach and prevention/education. The Bridge has grown to become one of the largest crisis intervention centers of its kind in Texas, serving over 20,000 people annually.