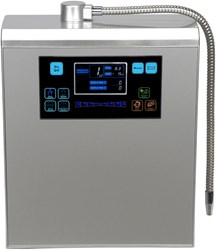 (PRWEB) December 18, 2013
Bawell alkaline water ionizers is offering special Christmas discounts on their Platinum water ionizer to celebrate the season.The Platinum model, one of the top-of-the-line water purification products made by Bawell, produces alkaline ionized water that can improve health in many ways.
Medical studies have shown that alkaline water has the potential to fight acid reflux disease, may be able to help control diabetes, and help with many other health issues. "Bawell is offering the Platinum water ionizing machine on sale in an effort to spread awareness of the health benefits of alkaline ionized water," a company representative said, adding that Bawell is dedicated to educating consumers about alkaline water benefits, and is committed to making its water ionizers as widely available as possible without price barriers. "We are hoping that this Christmas sale will provide people that could not normally afford a water ionizer, the chance to get one of their own."
Medical research published online by the PubMed database of scientific and biomedical literature reports the benefits of drinking acid-buffering alkaline water to combat the painful symptoms of acid reflux disease (PubMed #22844861).
Other medical studies show that alkaline ionized water promotes the growth of healthy intestinal bacteria, and may also help with diabetes control. PubMed study #17268057 indicates that ionized water improved the management of diabetes in genetically diabetic mice by helping to control their glucose levels, and advocates its use as an anti-diabetic agent. PubMed study #16945392 supported these findings by reporting similar results in experiments with Type 1 and Type 2 diabetic mice.
"There also is a lot of other scientific evidence that supports the health claims regarding drinking alkaline ionized water," the Bawell representative said. "We hope that by having our products on sale at affordable prices, consumers will be convinced to give healthy water a try."
The Platinum model comes with numerous features and provides water with a pH range of 3.0 to 11, including 35 different alkaline and acidic preset water levels easily controlled through its touch screen LCD displays. In addition, this ionizing machine produces an entire gallon of purified and treated water every 30 to 35 seconds. The acidic water it produces is an ideal chemical-free disinfectant which can be used to wash bacteria and pesticides from fruits and vegetables. Visit the BawellWaterIonizers.com website to learn more about the many benefits of alkaline ionized drinking water.
For longer than the past decade Bawell has been manufacturing high-quality water ionizers, and has a high rating from the Better Business Bureau. All Bawell products come with a 60-day 100% money-back guarantee, and carry either a Lifetime Warranty or Forever Lifetime Warranty.