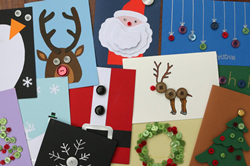 Paper Culture is our new favorite among retailers of Christmas Cards
Overland Park, KS (PRWEB) December 12, 2020
TopConsumerReviews.com recently gave its best-in-class 5-star rating to Paper Culture, a leader among online stores offering Christmas Cards.
During a time when so many people are staying home for the holidays, Christmas Cards add a welcome measure of joy. Getting updates from friends and family around the world, often with cute candid photos or images from professional shoots, keeps everyone connected - with cards often displayed on walls or doors. Writing the annual letter and choosing the perfect Christmas Card is a tradition beloved by many. While some prefer to send traditional cards from well-known retailers, most people enjoy creating a one-of-a-kind greeting to match their style and holiday wishes. It's never been easier to make and send unique Christmas Cards, with numerous options online in every imaginable design.
"Paper Culture is our new favorite among retailers of Christmas Cards," stated Brian Dolezal of TopConsumerReviews.com, LLC. "The company is very committed to being eco-friendly, as demonstrated by their planting of a tree for every order received: more than a million trees to date. All of their cards are printed on 100% post-consumer recycled paper, but you won't feel like you're sending anything but the highest-quality greetings. The designs offered by Paper Culture, more than 500 to choose from, are classy and give a definite high-end impression. Most of them can be customized, and every Christmas Card order comes with a 100% satisfaction guarantee. Although their prices are a bit higher than the competition, Paper Culture is a business you'll be proud to support. We're happy to name them as our newest first-place winner among stores offering Christmas Cards in 2020."
To find out more about Paper Culture and other online retailers of Christmas Cards, including reviews and comparison rankings, please visit the Christmas Cards category of TopConsumerReviews.com at https://www.topconsumerreviews.com/best-christmas-card-stores/.
About Paper Culture
Paper Culture is obsessed with eco-friendly stationery. Every design is exclusive and brings a modern point of view. Each order includes the free option to use Mail & Message, where Paper Culture will address, mail and even include a unique personal message on each card for only the actual cost of the stamp. Paper Culture's offerings include baby announcements, baby shower invitations, holiday cards, birthday party invitations, thank you cards and other personalized stationery.
About TopConsumerReviews.com
TopConsumerReviews.com, LLC is a leading provider of reviews and rankings for thousands of consumer products and services. From Christmas Cards to Christmas Trees and Chocolate Clubs, TopConsumerReviews.com delivers in-depth product evaluations in order to make purchasing decisions easier.