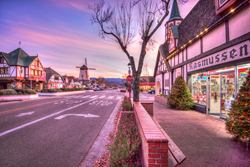 Solvang Julefest is an iconic holiday season 'thing' along California's Central Coast. It shines a twinkly light on Solvang's Danish heritage. We're so excited to be able to bring it back this year, for everyone looking for a little bit of a European holiday in Southern California.
SOLVANG, Calif. (PRWEB) October 12, 2021
Solvang, California has officially announced preliminary plans and dates for this year's Solvang Julefest (http://www.SolvangJulefest.org; pronounced 'Yule-Fest'), the Santa Ynez Valley wine country town's annual celebration of all things "holidays". The 2021 holiday season event, which will be modified as per Santa Barbara County COVID guidelines, will begin on Saturday, November 27, 2021 and run through Saturday, January 1, 2022. The 2021 edition of Solvang Julefest will entail multiple holiday happenings all located within the walkable California Central Coast destination, recently named by Oprah Daily as one of the "Most Magical Christmas Towns and Villages Across the World".
"Solvang's Julefest festivities are making a triumphant return this year, after last year's highly modified version of the beloved annual event. We will still have some slight modifications in place this year to accommodate the ongoing pandemic, but we will also be introducing some new Julefest elements for the enjoyment of our locals and visitors," said Scott Shuemake, President of IDK Events, planners and organizers of Solvang Julefest 2021.
As one of the nation's most Christmas-y towns, Solvang will present a refreshed line-up of Julefest offerings and extra holiday cheer in the form of new illuminated displays, celebratory scenescapes and settings, in an effort to enhance the "hygge" holiday ambiance already native to the atmospheric city.
Plans are in place for the return of the Solvang Julefest Tree Lighting Ceremony, tentatively scheduled for Friday, December 3, 2021, at 5:00 PM in Solvang Park (corner of Mission Drive and First Street). The Tree Lighting Ceremony is slated to include ballerinas encircling the Solvang Christmas tree, live entertainment, caroling and of course, the season-starting tree lighting. The return of the Solvang Julefest Parade is also in the works, scheduled for Saturday, December 4, 2021, at 11:00 AM (parade route TBA).
During Solvang Julefest, the village will once again host its now-annual Nisse Adventure, where participants join in a city-wide hunt for the mysterious Solvang Nisse (Christmas elves) which will have hidden themselves throughout downtown Solvang. Elf-trackers may visit http://www.NisseAdventure.com, where they will find animated videos containing clues to the various hiding spots which the Nisse frequents. Once guests find each Nisse they scan a QR code to continue along the adventure, earning a special prize at completion.
Saturdays throughout the Julefest stretch, town-wide Solvang Food Tours will be led by the foodie – and photo – experts at Eat This, Shoot That!, and the popular evening Candlelight Tours will return select Saturday nights (November 27; December 4, 11, 18), tickets for which include holiday-themed refreshments and a VIP Santa meet and greet experience. Either tour option presents a unique, educational, and entertaining way to explore the history-filled village on foot during the most festive of Solvang's seasons.
Shuemake continued, "Solvang Julefest is an iconic holiday season 'thing' along California's Central Coast. It shines a twinkly light on Solvang's Danish heritage. We're so excited to be able to bring it back this year, for everyone looking for a little bit of a European holiday in Southern California."
Certain Solvang Julefest 2021 components will take shape as COVID regulations allow, like this year's "Nordpolen" in Solvang Park, where Santa will greet guests select Saturday afternoons during Julefest in the park's Gazebo-turned-Santa's-Workshop.
Solvang, known for its Danish-American roots, architecture and design details, pastries, bakeries and plentiful wine tasting options, also boasts dozens upon dozens of unique boutiques, restaurants and gourmet food purveyors. Carefully-curated indie bookstores, high-end stationers and home goods suppliers, mingle with fairy tale-like children's boutiques and museum gift shops. Solvang's numerous foodie havens offer up everything from elevated street cuisine – like locally-sourced fish tacos on hand-made tortillas, and comforting ramen noodles – to European-style pretzels and sausages, to Italian standbys or iconic Danish dishes, to elevated new-Californian fare in the form of Michelin-honored menus, to heritage grain sourdough loaves or limited edition cheese releases, to small-batch, locally-roasted coffee, exotic and familiar hand-bottled spice blends, to Tiki cocktails and craft beers, all forming an indulgent holiday shopping and playing escape.
Dog-friendly and ideal for kids, Solvang Julefest promotes family fun and adventure through traditional holiday-favorite activities, with the addition of more-adult, wine country entertainment.
Further event announcements about Julefest 2021 and updates to the Julefest schedule will be made over the course of the next two months.
Solvang Julefest 2021 is produced by the City of Solvang (http://www.CityofSolvang.com) and IDK Events, in creative partnership with Cogs & Marvel (http://www.CogsandMarvel.com). All Solvang Julefest events are open to the public with either free or paid admission. More information will be available at http://www.SolvangJulefest.org. Event updates will also be posted to the SolvangUSA Instagram, Facebook, and Twitter accounts: @SolvangUSA, facebook.com/SolvangUSA, and twitter.com/SolvangUSA. A new, preliminary promo video for Solvang Julefest 2021 may be viewed here: https://youtu.be/0I3DMAlg9LY
Questions, media requests for interviews and/or photos, may be directed to Anna Ferguson-Sparks, Stiletto Marketing, at 1.877.327.2656 or solvang [at] stilettomarketing [dot] com.
About the City of Solvang:
Known as the "Danish Capital of America", the City of Solvang is located in the Santa Ynez Valley in Santa Barbara County, California. Founded by a group of Danish-Americans in 1911 and later incorporated in 1985, Solvang is home to a number of bakeries, restaurants, and merchants offering a taste of Denmark in Southern California. Sleek, Scandinavian design meets Old World charm in Solvang's numerous interior courtyards, cozy communal spaces and open-air venues, where vacation itineraries for all, unfold. The walkable town offers plentiful free parking options for locals and day-trippers, and more than 20 lodging options for staycation-ers, weekenders and mid-week travelers, at all vacation budget levels. For more information, including travel itinerary ideas and inspiration for things to do, where to eat and drink, and places to stay, follow our adventures on Instagram: @SolvangUSA.