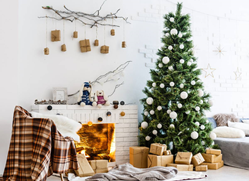 Year after year, our favorite place to buy Christmas Ornaments is Ornament Shop,
OVERLAND PARK, Kan. (PRWEB) December 14, 2020
TopConsumerReviews.com once again recognized Ornament Shop as the preferred site for buying Christmas Ornaments, continuing the company's best-in-class track record among online retailers.
No Christmas tree is complete without ornaments. For some families, it's a beloved tradition each year to adorn the tree, reminisce about times gone by, and create new memories. From matched sets that enhance the office decor to personalized styles that spotlight the members of a family and their interests, Christmas ornaments are as unique as the people who place them on their trees. Finding the perfect ornaments from year to year can be a fun challenge, but some shoppers quickly grow tired of going from one retailer to the next in the hopes of spotting what they're looking for. But, there's no need to feel Grinch-y when shopping for Christmas ornaments: the best selection is easily found online, including the top trends in pop culture, customized designs for each person in the family, and anything else that someone might want to use to decorate the tree.
"Year after year, our favorite place to buy Christmas Ornaments is Ornament Shop," according to Brian Dolezal of TopConsumerReviews.com, LLC. "Everyone loves personalized ornaments, and this retailer has literally every theme you could imagine - including styles that allow you to upload a photo for a double-sided design. The possibilities are endless: your Christmas Ornaments can commemorate fun travels, new members of the family, graduations and other milestones, local and professional sports, and so much more. Ornament Shop offers free shipping on any order with at least five items, and most of their ornaments are priced under $25 - making it affordable to decorate your tree from top to bottom. This retailer has a loyal customer base that shops there from one Christmas to the next, and it's easy to see why. We love everything about Ornament Shop, and they've easily earned another five-star rating among stores that sell Christmas Ornaments in 2020."
To find out more about Ornament Shop and other online Christmas ornament stores, including reviews and comparison rankings, please visit the Christmas Ornaments section of TopConsumerReviews.com at https://www.topconsumerreviews.com/best-christmas-ornaments/.
About Ornament Shop
Ornament Shop has a history spanning more than three decades of providing Christmas Decorations and Gifts, and has sold ornaments and other decorations online for more than 30 years. Their satisfied customers have helped them become the Largest Online Retailer of Personalized Christmas Ornaments. They maintain an excellent rating with the BBB and meet all customer needs with 100% satisfaction. Ornament Shop was acquired by Trinket Shop, LLC in 2019.
About TopConsumerReviews.com
TopConsumerReviews.com, LLC is a leading provider of reviews and rankings for thousands of consumer products and services. From Christmas Ornaments to Christmas Trees and Holiday Gift Baskets, TopConsumerReviews.com delivers in-depth product evaluations in order to make purchasing decisions easier.