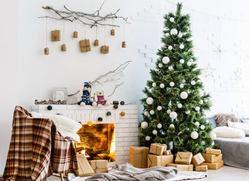 We're pleased to name Home Depot as our newest first-place winner among stores offering Christmas trees in 2020.
OVERLAND PARK, Kan. (PRWEB) December 31, 2020
TopConsumerReviews.com recently gave its best-in-class 5-star rating to Home Depot, a leader among online retailers offering Christmas Trees.
For many households and businesses, putting up the Christmas tree means that the holiday season has begun. From humble Charlie Brown-sized branches to Rockefeller Center majestic beauties, everyone has something in mind when they imagine the ideal tree for their home or office. But, as anyone who has tried to buy a tree at a brick-and-mortar store knows, the selection offered by local retailers can be slim — especially as Thanksgiving approaches and people start to get in the holiday spirit. For those who have a very specific size or tree type in mind, the most hassle-free shopping experience will almost always be found online. Not only do customers get the world's best selection of Christmas trees, but delivery is often included: no need to use twine to tie it to a car roof to get it home!
"Although Home Depot might not be the first store that comes to mind when deciding where to get a Christmas tree, it should definitely be at the top of your list," according to Brian Dolezal of TopConsumerReviews.com, LLC. "Shoppers can choose from among 3,000 different artificial trees, and they're the only retailer we found that also has options for home delivery of fresh-cut real Christmas trees. We were genuinely impressed by their selection, ranging from cute and compact trees that are perfect for decorating a desk or studio apartment to 20' trees ideal for a large foyer or commercial location. And, with so many brick-and-mortar locations nationwide, Home Depot always has options for buying online and picking up in-store, as well as making in-person returns if the Christmas tree fails to meet your expectations for any reason. We love how easy it is to find beautiful Christmas trees at Home Depot, and we're confident that most shoppers will have a great overall experience when buying from this retailer. We're pleased to name Home Depot as our newest first-place winner among stores offering Christmas trees in 2020."
To find out more about Home Depot and other online retailers of Christmas Trees, including reviews and comparison rankings, please visit the Christmas Trees category of TopConsumerReviews.com at https://www.topconsumerreviews.com/best-christmas-trees/.
About Home Depot
The Home Depot is the world's largest home improvement specialty retailer, with 2,295 retail stores in all 50 states, the District of Columbia, Puerto Rico, U.S. Virgin Islands, Guam, 10 Canadian provinces and Mexico. In fiscal 2019, The Home Depot had sales of $110.2 billion and earnings of $11.2 billion. The company employs more than 400,000 associates.
About TopConsumerReviews.com
TopConsumerReviews.com, LLC is a leading provider of reviews and rankings for thousands of consumer products and services. From Christmas Trees to Christmas Ornaments and Photo Cards, TopConsumerReviews.com delivers in-depth product evaluations in order to make purchasing decisions easier.