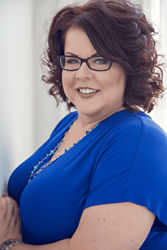 One thing I love about my store is helping women feel confident, beautiful and desirable the way they look now, in the body they have now
San Jose, CA (PRWEB) May 04, 2016
Chrystal Bougon, owner of the first plus-size lingerie store in the U.S. (Curvy Girl Lingerie), is excited to announce she's been chosen as the sex and body love columnist for the brand new magazine, FabUplus Magazine.
"Sex can be fantastic at any size, and I want to make sure everyone knows that," said Bougon. "One thing I love about my store is helping women feel confident, beautiful and desirable the way they look now, in the body they have now, so I'm excited to bring that message to even more women."
Despite over 167 million plus sized women in North America, FabUplus Magazine is the continent's only body positive health, fitness and lifestyle magazine with weight-neutral content dedicated to women with curves. It's breaking traditional media rules by showcasing the plus-size community and encouraging women to be confident with the way they look. Find out more at http://www.FabUplusMagazine.com.
Chrystal Bougon created Curvy Girl Lingerie in San Jose, CA because she believes all women deserve a safe place to shop without judgment, where they can find lingerie and panties that fit well and make them feel beautiful and sexy. With a "Sexy Isn't a Size" motto, Curvy Girl Lingerie carries items in sizes 14-6x. Learn more at curvygirlinc.com.
Bougon is also the star of the upcoming reality tv series, Plus Life: Unapologetically Fat and Fabulous (because sometimes there's not a skinny inside dying to get out). Look for Plus Life to air this summer.