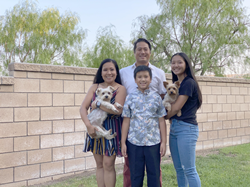 Our family has a passion for animals and we understand that pets are important members of the family. We want our pets to live long lives and that starts with providing them healthy, nutritious food ... we are excited to share Pet Wants with our community. - Marijane Chuang
CHINO HILLS, Calif. (PRWEB) September 09, 2020
With a passion for pets and the desire to help pet families find fresh, healthy food, Marijane and Jesse Chuang are pleased to announce the launch of their new small business – Pet Wants Chino Hills.
Pet Wants' specially-crafted, private-label pet food formulas are made in small batches with fresh, natural ingredients enhanced with vitamins and minerals for a complete and balanced diet in every bowl. Pet Wants Chino Hills has multiple blends of dog and cat food formulas as well as healing salve, calming balm, anti-itch spray, paw wax and more. Pet Wants Chino Hills offers free, personal delivery throughout Chino and Chino Hills.
"After years of working for corporate, we've always dreamed of having our own business where we could get the kids involved. When we lived in Seattle, we saw how pet friendly the city was. There were places like barkeries and boutique pet stores that catered to pet parents offering natural, fresh food for their pets. Currently, we have to drive outside our area to find these types of shops," Marijane said.
"Marijane has always loved working with animals and what better way to do this than having a business that can help others care for their pets? Pet Wants is unique and delivers quality products for pet owners. Our rescue dog Scruffy is picky with his food, and loves the lamb and rice topped with some freeze-dried salmon while Boba loves to chew on her bully sticks and antlers," Jesse added.
Pet Wants has a money-back guarantee on the freshness and quality of the food and the company only sources the best salmon, chicken, lamb, brown rice and other ingredients available. There's no sugar added, no fillers and no animal by-products and Pet Wants never uses corn, wheat, soy or dyes, which makes the food great for animals with allergies.
Jesse's background is in operations and logistics, working for an industrial tire manufacturer. Marijane's background involved sales and marketing in the life sciences industry. While living in Seattle, Marijane volunteered at the Seattle Humane Society Pet Food Bank, helping organize pet food donations for those that needed it. The family volunteers within their community with their local rescue, Priceless Pets to God's Pantry in distributing food to those in need.
Jesse grew up in NOLA, and Marijane was born and raised in Hawaii. They met at Seattle University and had their first fur baby, a Pomeranian named Kaleo. In 2001, they moved to Southern California and planted their roots. They've been married for 17 years with two kids – Haley and Logan – and their fur babies Scruffy, a terrier mix, and Boba, a Yorkie Terrier.
"Our family has a passion for animals and we understand that pets are important members of the family. We want our pets to live long lives and that starts with providing them healthy, nutritious food. After 13 years in Chino Hills, we're excited to become business owners and to share Pet Wants with our community," Marijane said.
To learn more about Pet Wants Chino Hills, call 909-203-8217, email MChuang@PetWants.com or visit http://www.petwants.com/chinohills.