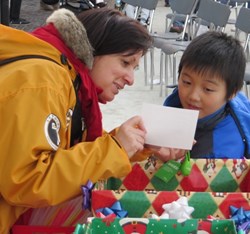 Los Angeles, CA (PRWEB) December 05, 2013
Volunteer Ministers from the Church of Scientology Vancouver helped launch the holiday season at the Edmonds Festival of Lights, an annual celebration held at the Edmunds Community Center in Burnaby, British Columbia, one of Vancouver's largest suburban cities.
Better known for disaster response and community outreach, the Volunteer Ministers are community partners and helped with event planning and organizing and set up their Volunteer Ministers tent at the community center to welcome families to the event. They also helped organize the outdoor events for children and families.
The Festival of Lights is the official launch of the holiday season in Burnaby, and the day ended with the lighting of a huge Christmas tree set up at the side of the Community Centre.
Transcending all ethnic, cultural and religious boundaries, the Volunteer Minister program is there for anyone in need of help. Volunteer Minister training is available free of charge through the Scientology Volunteer Ministers website to anyone who wishes to help others.
Press Contact: Karin Pouw
Tel: (323) 960-3500
eMail: MediaRelations(at)ChurchofScientology(dot)net
SOURCE: ScientologyNews.org