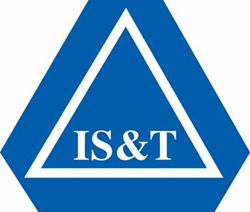 Springfield, VA (PRWEB) August 29, 2017
In just a few weeks, leading experts in color science, imaging, and engineering systems, technologies, and applications will gather in Lillehammer for the 25th Color and Imaging Conference (CIC25).
Inaugurated in 1993 and sponsored by the Society for Imaging Science and Technology (IS&T), CIC is the premier annual technical gathering for scientists, technologists, and engineers working in the areas of color science and systems, and their application to color imaging. The CIC program covers a large variety of imaging applications such as mobile imaging, virtual reality, endoscopy, material representation in manga comics, biomedical imaging of skin, face detection, color blindness, color preferences in fat spreads (like margarine), color harmony, and underwater color correction. The science of color is vital to many fields of imaging, especially as advances in today's technologies move at a rapid pace.
Keynote speakers at CIC25 will touch upon how color has shaped some of those technological developments:

Paul Hubel, Chief Scientist, Camera Technology at Apple, discusses how extreme increases in mobile processing power and innovative algorithms have allowed computational photography to push the image quality of small cameras well beyond much larger systems. Hubel also considers the future of mobile imaging.
Anya Hurlbert, Newcastle University, reviews parallel developments in the computational and psychophysical approaches to color constancy, and relates these to new developments in lighting technology, which present new challenges for color stability.
Malcolm Innes, Edinburgh Napier University, uses examples of projects in light art, architectural lighting design, and conservation lighting for museums and galleries to illustrate the personal attempts by an inquisitive artist/designer to understand our complex relationships with light and color.
The conference program features technical presentations on topics including: color perception; capture and display; material appearance and color; color theory, image quality; and multispectral imaging. Technical sessions take place in Maihaugen, Northern Europe's largest open-air museum.
The technical program is augmented by an extensive array of classes taught by color science and imaging experts, including the one-day intensive "Color, Vision, and Basic Colorimetry" class taught by Gaurav Sharma, University of Rochester; "Camera Color Characterization: Theory and Practice" taught by Dietmar Wueller, Image Engineering GmbH & Co. KG, and Eric Walowit, consultant; and "Color Image Quality Assessment" taught by Marius Pedersen and Seyed Ali Amirshahi, Norwegian Colour and Visual Computing Laboratory (NTNU).
With support from the Research Council of Norway, CIC25 also offers three separate workshops for attendees: "Medical Applications: Image Processing, Challenges, and Perspectives"; "Visual Perception and Emerging Technologies in Cinema: Perspectives from Academia and the Industry"; and "Cultural Heritage Digitization: Challenges and Opportunities."
CIC25 is collocated with the 19th International Symposium on Multispectral Colour Science. Additional sponsors of CIC25 include The Colour Group (Great Britain), HP Inc., Image Engineering GmbH, and the Research Council of Norway.
About IS&T: The Society for Imaging Science and Technology (IS&T) is an international professional non-profit dedicated to keeping members and other imaging professionals apprised of the latest developments in the field through conferences, educational programs, publications, and its website. IS&T programs encompass all aspects of the imaging workflow, which moves from capture (sensors, cameras) through image processing (image quality, color, and materialization) to hard and soft copy output (still, motion, print, displays, image permanence), and include aspects related to human vision and machine vision, such as object recognition, image quality, and color. The Society also focuses on a wide range of image-related applications, including security, virtual reality, mobile imaging, and data analysis. Follow IS&T on Twitter: @ImagingOrg