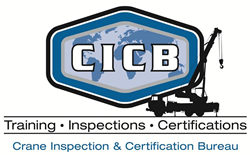 Current operators are advancing their skillset by adding the lattice boom crawler endorsement to their current certification, and the lower price also permits affordability in skill development for the next generation of operators
HOUSTON (PRWEB) August 17, 2018
With construction industry growth outpacing skilled equipment operator talent, Crane Inspection & Certification Bureau (CICB), is taking steps to assist in closing the skills gap by offering affordable NCCCO practical exams at their Houston, TX training center. The 20% reduction in price to $800 enables companies to upgrade the skills of their current workforce and affords the independent operator the chance to gain additional skills, opening employment opportunities in multiple industries.
"Current operators are advancing their skillset by adding the lattice boom crawler endorsement to their current certification," said John O'Connor, CICB's Houston Operations Manager, "and the lower price also permits affordability in skill development for the next generation of operators."
Operators will receive an hour of hands-on training on the crane before their National Commission for the Certification of Crane Operators (NCCCO) Lattice Boom Crawler Practical Exam. In addition, novice operators are also afforded hands-on training on CICB's Vortex training simulator from CM Labs. The simulator is equipped with multiple large HD screens which displays lattice boom crawler crane simulations. The realistic experience of Vortex simulator training not only reinforces learning for the beginners, but also benefits the advanced operator with certification-level scenarios, comparable to a NCCCO exam.
About CICB:
Headquartered in Orlando, FL since 1969 with a second training facility in Houston, TX, Crane Inspection & Certification Bureau (CICB) provides customized training for every type of lifting equipment and inspection services worldwide.
CICB's professionally trained instructors and subject matter experts are not only NCCCO Accredited Practical Examiners, but are NCCCO Certified as Mobile, Overhead & Articulating Crane Operators, Riggers, Signalpersons, Lift Directors and Crane Inspectors. CICB's instructors have been awarded the prestigious Top Trainer Award in 2017, 2016, 2014, 2013, 2012, 2011 and 2009.