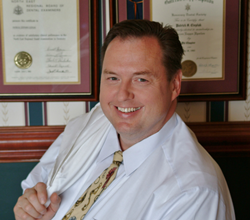 After the Invisalign treatment, most patients report an increase in self-esteem.
LA PLATA, Md. (PRWEB) May 21, 2019
Cieplak Dental Excellence dentist and founder, Dr. Patrick Cieplak, and his associate Dr. Charniece Whitaker, are raising awareness of the ability of orthodontics treatments like Invisalign® to improve the aesthetics and function of a smile. Dr. Cieplak and Dr. Whitaker welcome new patients with crooked teeth interested in straightening them, to receive a personalized consultation at their La Plata, MD practice.
Typically, orthodontics candidates are those who have teeth that are either not straight or are being moved from their natural position due to gum disease, bone loss or another issue. Orthodontics treatments gently but firmly realign crowded teeth, unite teeth with gaps between them, and bring the mouth into functional alignment. The result is a beautiful smile that is also easier to care for at home and during routine hygiene cleanings.
Dr. Cieplak and Dr. Whitaker offer Invisalign clear aligner treatment at their practice. This solution uses discreet, clear aligner trays to gradually shift teeth into proper position. During initial consultations, Dr. Cieplak or Dr. Whitaker will recommend the best treatment based on the patient's needs and objectives. After the Invisalign treatment, most patients report an increase in self-esteem due to the attractive placement of their teeth. Many patients also discover a decrease in tooth decay and gingivitis as a result of easier hygiene routines. When teeth are misaligned, maintaining proper hygiene routines can become difficult. Once straightened, removing plaque and tartar becomes more manageable.
In addition to providing orthodontics solutions to their patients, Dr. Cieplak and Dr. Whitaker also offer other types of family and cosmetic dentistry treatments. For instance, dental crowns, bridges or dental implants in conjunction with orthodontics can replace missing teeth and reduce the risk of teeth shifting after they have been properly aligned. Professional teeth whitening can also complete the look and truly offer a complete smile makeover.
Anyone interested in learning more about their candidacy for orthodontics in La Plata, MD, may contact Cieplak Dental Excellence by calling 301-609-9999. Several financing options are available to cover the cost of orthodontics and other cosmetic treatments.
About the Dentist
Cieplak Dental Excellence has been offering trusted dental care to patients in the La Plata, MD area for over 30 years. Founder, Dr. Patrick Cieplak, is dedicated to learning the latest dental techniques and has completed thousands of hours of continuing education courses. Dr. Cieplak is one of only 3,000 dentists worldwide to achieve Mastership with the Academy of General Dentistry. He is a Fellow in the International Congress of Oral Implantology as well as Associate Fellow in the American Academy of Implant Dentistry. His associate, Dr. Charniece Whitaker, is a general dentist who received her Doctor of Dental Surgery degree from the University of Maryland School of Dentistry. She strives to always develop her skills and serve her community with minimally invasive and effective techniques. To learn more about Dr. Cieplak, Dr. Whitaker, their team or the services they offer, please visit http://www.patcieplakdds.com or call 301-609-9999 to schedule an appointment.