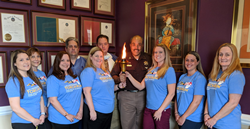 We learned how to identify patients with myofunctional occlusion issues and ways to help them so that they can sleep, eat and speak better.
LA PLATA, Md. (PRWEB) October 25, 2019
The team at Cieplak Dental Excellence recently attended an in-office training on myofunctional therapy in La Plata, MD. Orofacial myofunctional disorders (OMDs) are abnormal movement patterns of the face and mouth that can restrict how a patient eats, sleeps and speaks. This can include anything from difficulty swallowing and limited tongue movement to an overbite. Participation in this course is another element of the proactive approach that Dr. Patrick Cieplak's team takes with continuing education. Everyone on this highly successful dental team, from the administration staff to Dr. Cieplak himself, takes any opportunity to enhance their skills and knowledge in an effort to better the patient experience.
Myofunctional disorders can affect anyone, from children and teenagers to adults. The condition interferes with the normal growth and development of jaw muscles and bones. Those affected typically experience difficulty swallowing or breathing and have trouble using their mouth for simple, everyday activities. Therapy for myofunctional disorder can help correct these concerns, allowing patients to live a more natural lifestyle. Common signs and symptoms of this disorder include:

Mouth breathing or trouble breathing through the nose
Limited tongue movements
Trouble eating
Overbite, underbite or other dental concerns
Constant tongue thrusting
"We learned how to identify patients with myofunctional occlusion issues and ways to help them so that they can sleep, eat and speak better," says Sharon Garner, the Practice Administrator at Cieplak Dental Excellence. "This gives patients a better quality of life and improved health."
The primary goal of myofunctional therapy is to create an environment that promotes normal function of the mouth and proper dental growth and development. After attending this in-office training, which included hands-on learning exercises, Dr. Cieplak and his team have a more in-depth understanding on the treatment and therapy required to help patients suffering from myofunctional disorder.
Cieplak Dental Excellence is a team of compassionate dental professionals who offer cosmetic dentistry, dental implant treatment, general dentistry and more. The practice provides cutting-edge technology and sedation dentistry to make treatments easier and safer for patients. Dr. Cieplak has served the La Plata, MD community for over three decades and strives to educate his patients, his staff, and himself at every opportunity.
Those interested in receiving myofunctional therapy for an overbite, difficulty swallowing, or other symptoms of OMD, or who want to learn more about the practice, are encouraged to contact Cieplak Dental Excellence at 301-609-9999 or visit http://www.patcieplakdds.com.
About the Practice
Cieplak Dental Excellence has been offering trusted dental care to patients in the La Plata, MD area for over 30 years. Founder, Dr. Patrick Cieplak, is dedicated to learning the latest dental techniques and has completed thousands of hours of continuing education courses. Dr. Cieplak is one of only 3,000 dentists worldwide to achieve Mastership with the Academy of General Dentistry. He is a Fellow in the International Congress of Oral Implantology as well as Associate Fellow in the American Academy of Implant Dentistry. His associate, Dr. Charniece Whitaker, is a general dentist who received her Doctor of Dental Surgery degree from the University of Maryland School of Dentistry. She strives to always develop her skills and serve her community with minimally invasive and effective techniques. To learn more about Dr. Cieplak, Dr. Whitaker, their team or the services they offer, please visit http://www.patcieplakdds.com or call 301-609-9999 to schedule an appointment.