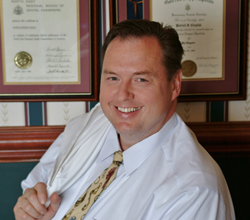 While the primary goal of cosmetic dentistry is to improve the look of the smile, many of the treatments can also improve the overall health of the mouth too.
LA PLATA, Md. (PRWEB) March 03, 2020
Cieplak Dental Excellence is transforming damaged, flawed, and crooked teeth into beautiful new smiles through effective cosmetic dentistry in La Plata, MD. Having a beautiful smile does more than just renew confidence, it can also significantly improve oral health. Dr. Patrick Cieplak and Charniece Whitaker offer a variety of cosmetic dentistry solutions to help improve both the beauty and health of patient smiles.
Cosmetic dentistry is a branch of dentistry that often focuses on the aesthetics of the smile and teeth. With effective cosmetic dentistry treatments, patients can transform a disfigured, flawed or unattractive mouth into a beautiful smile. Some of the most common concerns that can be corrected with cosmetic dentistry include stained teeth, crooked teeth, missing teeth, cracked or damaged teeth and teeth that have unattractive metal fillings.
Cieplak Dental Excellence offers a wide range of cosmetic dentistry services to help restore a beautiful smile and a healthy mouth. These treatments include:

Professional teeth whitening
Composite fillings
Dental crowns and bridges
Invisalign®
Porcelain veneers
While the primary goal of cosmetic dentistry is to improve the look of the smile, many of the treatments can also improve the overall health of the mouth too. Filling in the unattractive gaps of missing teeth can also fully restore a patient's ability to chew and speak. Invisalign aligns teeth to their correct position, which not only creates a beautiful smile but improves the occlusion of the bite, helping teeth connect better when the mouth closes. Dental crowns provide both a healthy structure and attractive appearance to teeth, while preserving the health of a natural tooth and root.
One of the most common cosmetic dentistry treatments performed at Cieplak Dental Excellence is Invisalign. Similar to traditional braces, Invisalign is used to align teeth to their proper position and create an attractive and harmonious bite. This treatment is popular because Invisalign utilizes clear aligners instead of metal brackets and wires. This means that patients are able to have a more beautiful smile throughout the alignment process and enjoy the comfort of wearing clear, plastic aligners that can be easily removed to eat or drink any foods. This alignment solution is both a cosmetic and functional treatment for most patients.
Those interested in enhancing the beauty of their smile can schedule an appointment at Cieplak Dental Excellence for cosmetic dentistry in La Plata, MD by visiting http://www.patcieplakdds.com or calling 301-609-9999.
About the Dentists
Cieplak Dental Excellence has been offering trusted dental care to patients in the La Plata, MD area for over 30 years. Founder, Dr. Patrick Cieplak, is dedicated to learning the latest dental techniques and has completed thousands of hours of continuing education courses. Dr. Cieplak is one of only 3,000 dentists worldwide to achieve Mastership with the Academy of General Dentistry. He is a Fellow in the International Congress of Oral Implantology as well as Associate Fellow in the American Academy of Implant Dentistry. His associate, Dr. Charniece Whitaker, is a general dentist who received her Doctor of Dental Surgery degree from the University of Maryland School of Dentistry. She strives to always develop her skills and serve her community with minimally invasive and effective techniques. To learn more about Dr. Cieplak, Dr. Whitaker, their team or the services they offer, please visit http://www.patcieplakdds.com or call 301-609-9999 to schedule an appointment.