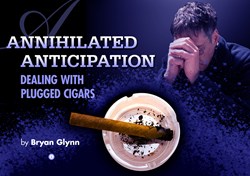 Understanding their role in the equation of a good smoke will help us achieve a more consistent and enjoyable smoking experience.
Easton, PA (PRWEB) August 09, 2013
The all-new Cigar Advisor Magazine is an online cigar magazine that brings a fresh, irreverent, and down-to-earth perspective on all things cigars to thousands of smokers. In addition to educational cigar content and behind-the-scenes cigar industry articles from some of the business's top names, Cigar Advisor delivers an array of content about a variety of topics of interest to people who enjoy the cigar lifestyle. The magazine also features cigar reviews and ratings submitted by real smokers. Cigar Advisor has just published a new article titled "Annihilated Anticipation" – which focuses on fixing the problem of a plugged cigar.
Cigar smokers have all been there: they reach into your humidor and carefully extract the prized that's been saved for a particularly special occasion. Before toasting and it, the cold draw reveals nothing. It is excessively tight, or worse, totally plugged.
Before throwing out the cigar, Cigar Advisor contributor Bryan Glynn says, "Why not try to revive it?" He then digs into the causes, and solutions, of plugged cigars.
"When it comes right down to it, cigars are just rolled up leaves," Bryan writes. He adds, "That sweet simplicity is complicated by factors like how that tobacco is cured and fermented, how and when it's rolled, how the cigars are stored, and how they are smoked. Obviously some of these variables are beyond our control, but understanding their role in the equation of a good smoke will help us achieve a more consistent and enjoyable smoking experience."
Among the reasons plugged cigars occur are factory defects such as improper fermentation and rolling imperfections. Bryan explains that overhumidification on the consumer's end is likely the most frequent culprit.
"If you encounter plugged cigars frequently, consider lowering your humidor's RH. Even a difference of 2% RH can result in a better draw, so go with your gut. This is especially true if you favor fuller-bodied fare, whose tobaccos tend to contain more oils."
About Cigar Advisor Magazine
Cigar Advisor magazine is a digital publication created for real cigar enthusiasts who love tobacco and live the lifestyle. Cigar smokers are passionate about almost everything they do - whether it's the drinks they savor, the food they devour, the cars and motorcycles they dream of, the sports they're fanatical about or the women they love, Cigar Advisor shares those passions with a razor-sharp edge, soaking up each day and experience as if it were our last. Find that passion and more on display at CigarAdvisor.com.