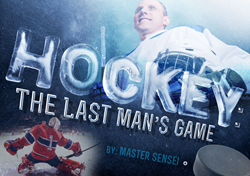 Aggression, speed, and intensity are part of any sport, but this concept has been lost except in the realm of hockey.
Easton, PA (PRWEB) March 26, 2014
The all-new Cigar Advisor Magazine is an online cigar magazine that brings a fresh, irreverent, and down-to-earth perspective on all things cigars to thousands of smokers. In addition to educational cigar content and behind-the-scenes cigar industry articles from some of the business's top names, Cigar Advisor delivers an array of content about a variety of topics of interest to people who enjoy the cigar lifestyle. The magazine also features cigar reviews and ratings submitted by real smokers, and much more. Cigar Advisor Magazine has published an article by the co-founder of the popular cigar blog Cigar Dojo who goes by the ominous name of Master Sensei entitled "Hockey: The Last Man's Game" an opinion piece as to why Hockey is the last great remaining sport while all others have been watered down.
In his article, Master Sensei makes the point that most sports, starting from a young age, preach safety and exercise caution. Conversely, he argues aggression, speed, and intensity are part of any sport, but this concept has been lost except in the realm of hockey. He states "As a man, I believe I feel an inherent desire for competition. And when I watch a manly sport, I want to see speed, aggression, big hits, intensity, and forgive me if I sound like a Neanderthal, but I may even want to see a little blood! What I don't care for is this new-age, everybody's equal, overly-safe crap. In some areas, kid's soccer games no longer have scores, or winning, or losing. See, we're all equal, right?… But then again, this is soccer, the game that practically awards cowardice with points."
He continues "The dives these players take in search of a penalty are an embarrassment to men everywhere. And soccer brawls? I almost don't want to go into this… A thrash of cheap-shots, slapping, hair-pulling, and kicking - a soccer fight is like watching two transvestites fight over a high-heeled shoe (sorry for the mental picture)."
About Cigar Advisor Magazine
Cigar Advisor magazine is a digital publication created for real cigar enthusiasts who love tobacco and live the lifestyle. Cigar smokers are passionate about almost everything they do - whether it's the drinks they savor, the food they devour, the cars and motorcycles they dream of, the sports they're fanatical about or the women they love, Cigar Advisor shares those passions with a razor-sharp edge, soaking up each day and experience as if it were our last. Find that passion and more on display at CigarAdvisor.com.