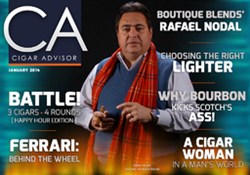 Cigar Advisor has just released their January 2014 issue, featuring Boutique Blends/ Oliveros Cigars President and Owner Rafael Nodal on the cover.
Easton, PA (PRWEB) January 01, 2014
The all-new Cigar Advisor Magazine is an online cigar magazine that brings a fresh, irreverent, and down-to-earth perspective on all things cigars to thousands of smokers. In addition to educational cigar content and behind-the-scenes cigar industry articles from some of the business's top names, Cigar Advisor delivers an array of content about a variety of topics of interest to people who enjoy the cigar lifestyle. The magazine also features cigar reviews and ratings submitted by real smokers. Cigar Advisor has just published their January 2014 issue, which features another wide array of articles about a myriad of cigar-related topics.
The January 2014 cover of Cigar Advisor features Rafael Nodal, Master Blender, Owner, and President of Boutique Blends/Oliveros Cigars. This month, Rafael has written about the Cuban Embargo and questions whether or not it should be lifted. Rafael is a proud Cuban-American with much to say on the subject of the Cuban Embargo and gives an insightful perspective on whether or not the embargo should remain in place.
The new issue also features new versions of some of the magazine's most popular recurring columns, the first being "Making the Case," written by Charles Torano, owner of Torano cigars. The second is "Tobacco Farming," a column that progressively lays out the cigar making process from the time it is planted, to the time a customer takes his or her first puff. Also featured in this month's issue is Storm Boen writing about his experience with Operation: Cigars for Warriors.
The issue also includes a new contributor, Glori B.E. who gives her top five cigars for women who are new cigar smokers. Also included is Walter White, a regular contributor with Cigar Advisor who details the steps taken when deciding on buying a new lighter.
People interested in learning more about Cigar Advisor Magazine or viewing the January 2014 issue should visit CigarAdvisor.com.
About Cigar Advisor Magazine
Cigar Advisor magazine is a digital publication created for real cigar enthusiasts who love tobacco and live the lifestyle. Cigar smokers are passionate about almost everything they do - whether it's the drinks they savor, the food they devour, the cars and motorcycles they dream of, the sports they're fanatical about or the women they love, Cigar Advisor shares those passions with a razor-sharp edge, soaking up each day and experience as if it were our last. Find that passion and more on display at CigarAdvisor.com.