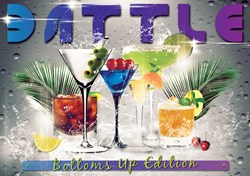 We supply the facts on each stick, and with that info, give you the chance to sample, review and choose the winners in each round.
Easton, PA (PRWEB) January 16, 2014
The all-new Cigar Advisor is an online cigar magazine that brings a fresh, irreverent, and down-to-earth perspective on all things cigars to thousands of smokers. In addition to educational cigar content and behind-the-scenes cigar industry articles from some of the business's top names, Cigar Advisor delivers an array of content about a variety of topics of interest to people who enjoy the cigar lifestyle. The magazine also features cigar reviews and ratings submitted by real smokers, and much more. Cigar Advisor Magazine has released it's monthly cigar sampler called the "Judge's Club Sampler." Each month, the Cigar Advisor team picks some of their favorite cigars and builds a sampler available to readers.
"Welcome to the Battle! The New Year is upon us, so the Advisors are kicking off the calendar with a little bit of style and a little bit of swagger…actually, make that a little bit of stagger – as this month, we're "informed" from deep within a few bottles of choice. We're not pairing smokes, per se – rather, we're pairing cigars with certain drinks because of the qualities they share, unique notes each presents and, well, just because they're so goddamned tasty. Mostly that last part. Notice that we're only telling you what those cigars are, and why we like them, as opposed to giving these smokes a rating, a score, a rank or whatever arbitrary and arcane grade we could dream up. The Advisors cry foul on pulling bogus "ratings" out of thin air, or basing a score on 3 puffs and a whole lotta hype."
"Instead, it's best to let the cigars – and real smokers like you - do the talking. We supply the facts on each stick, and with that info, give you the chance to sample, review and choose the winners in each round. Our criteria for choosing these cigars haven't changed, either - we just happen to like 'em for one reason or another. And these 12 in particular, we enjoy with a kind of particular pleasure reserved for very few other adult delights. As for the descriptions themselves, we're going off of what flavor and body the fillers have, what qualities the wrappers have and so on, plus 100% personal experience...and pitting the cigars (and their boozy counterpart) against each other in this month's Battle. "
About Cigar Advisor Magazine
Cigar Advisor magazine is a digital publication created for real cigar enthusiasts who love tobacco and live the lifestyle. Cigar smokers are passionate about almost everything they do - whether it's the drinks they savor, the food they devour, the cars and motorcycles they dream of, the sports they're fanatical about or the women they love, Cigar Advisor shares those passions with a razor-sharp edge, soaking up each day and experience as if it were our last. Find that passion and more on display at CigarAdvisor.com.