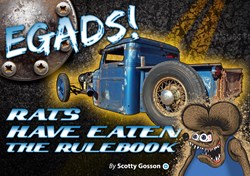 These are cars, not artifacts. They should be built and enjoyed by anyone inspired to do so, and driven everywhere.
Easton, PA (PRWEB) August 11, 2013
The all-new Cigar Advisor Magazine is an online cigar magazine that brings a fresh, irreverent, and down-to-earth perspective on all things cigars to thousands of smokers. In addition to educational cigar content, behind-the-scenes cigar industry articles from the business's top names and cigar reviews and ratings submitted by real smokers, Cigar Advisor delivers an array of content about a variety of topics of interest to people who enjoy the cigar lifestyle. This includes their just-published photo essay on rat rods in their August issue.
Automotive photojournalist Scotty Gosson has contributed a photo essay titled, "EGADS! RATS HAVE EATEN THE RULEBOOK!!!" to the August issue of Cigar Advisor. Having researched the rat rod automotive genre for his book Rat Rods – Rodding's Imperfect Stepchildren, Scotty notes in this latest piece that rat rods "have kicked seminal traditions across the generation gap" – resulting in a whole new art form that Generation X is fully embracing as its own.
"Every generation aims to brand itself unique from the previous," Scotty writes. He believes the philosophical shift has occurred with new blood coming into the hobby: "Though rat rodding began as a young people's angst outlet, their inclusive community standards decreed anyone eligible for membership and that's just what happened: rat rodding has no age requirements." The irony, he points out, is that rat rodders are nostalgic for an era they never lived - and seem to have been born with a "lust for creaky hinges, mysterious rattles, oil leaks, and a voracious appetite for rust and patina." Scotty complements his words with striking images of rat rods he's encountered in his work in the field.
The rat rod is, by Gosson's definition, a statement as well as transportation. "These are cars, not artifacts. They should be built and enjoyed by anyone inspired to do so, and driven everywhere."
About Cigar Advisor Magazine
Cigar Advisor magazine is a digital publication created for real cigar enthusiasts who love tobacco and live the lifestyle. Cigar smokers are passionate about almost everything they do - whether it's the drinks they savor, the food they devour, the cars and motorcycles they dream of, the sports they're fanatical about or the women they love, Cigar Advisor shares those passions with a razor-sharp edge, soaking up each day and experience as if it were our last. Find that passion and more on display at CigarAdvisor.com.