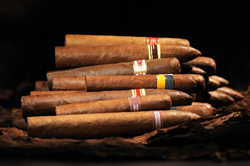 For all of these reasons, Premium Cigar of the Month Club earns our highest ranking among Cigar Clubs in 2020
Overland Park, KS (PRWEB) December 12, 2020
TopConsumerReviews.com recently gave its first-place ranking to Premium Cigar of the Month Club, a subscription-based Cigar Club offered by Monthly Clubs.
For a wide variety of consumer goods, monthly clubs are a fantastic way to get familiar with new varieties of favorite products - and cigars are no exception. For those just starting to enjoy them, to true aficionados, cigar clubs deliver different types and sizes from around the world on a monthly, bi-monthly, or quarterly basis. Plans can be set up to receive new shipments two or three times in total or even for a full year, making cigar clubs an option to consider as a special gift for anyone who loves a good cigar. Most of these clubs back their deliveries with a solid satisfaction guarantee, so customers can get a refund if anything arrives in less than perfect condition.
"Monthly Clubs brings more than 20 years of experience to the subscription box industry, and it shows in the high quality of their Premium Cigar of the Month Club," according to Brian Dolezal of TopConsumerReviews.com, LLC. "To curate the best cigars from around the world for their customers, this company uses a panel of nine tobacconists that evaluate more than 800 cigars a month. Only the finest ones in terms of aroma and flavor profile are included in the five cigars shipped to subscribers in each delivery. Every package also comes with a newsletter that describes the history of the cigars' manufacturers, tasting notes and suggested alcohol pairings. And, Monthly Clubs takes great care to ensure that your cigars arrive fresh, with reusable humidification devices in each package. What's not to love about a club that brings the world's best cigars right to your doorstep each month? For all of these reasons, Premium Cigar of the Month Club earns our highest ranking among Cigar Clubs in 2020."
To find out more about Premium Cigar of the Month Club and other Cigar Club options, including reviews and comparison rankings, please visit the Cigar Clubs category of TopConsumerReviews.com at https://www.topconsumerreviews.com/best-cigar-clubs/.
About Premium Cigar of the Month Club
Premium Cigar of the Month Club is one of six services offered by Monthly Clubs, whose other subscriptions include wine, beer, cheese, chocolates and flowers. Founded in 1994, the company takes great pride in being a big part of fostering exploration as members try cigars they've never seen before. The business also focuses on being environmentally conscious, with 100% recyclable packaging, a solar array at their corporate offices, and partnering with vendors that share the same "green" focus.
About TopConsumerReviews.com
TopConsumerReviews.com, LLC is a leading provider of reviews and rankings for thousands of consumer products and services. From Cigar Clubs to Coffee Clubs and Fruit Baskets, TopConsumerReviews.com delivers in-depth product evaluations in order to make purchasing decisions easier.