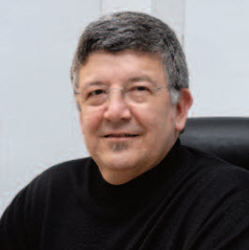 We´ve risked and we´ve won; we´re facing the future with optimism
Madrid (Spain) (PRWEB) September 03, 2015
"We´ve risked and we´ve won; we´re facing the future with optimism"
DocPath belongs to a small group of brave and ambitious SMBs that are able to compete with large multinationals.
More than 20 years of experience in document software development and the proficiency and knowledge of DocPath´s software engineers led by CEO Julio Olivares, have enabled the company to innovate with a whole new generation of more efficient and easier to use document software products that optimize their clients´ work flows and reduce costs.
Q: Today, document software is a key element for organizations of any size. How does DocPath improve a company´s document processes?
A: The first years, we mainly focused on managing Document Output Management (DOM). This concept refers to the processes related to the generation and distribution of documentation that serves as a means of communication between a company and its clients. In this regard, our goal has always been to provide our clients with superior-quality documentation that can be easily and rapidly distributed across a variety of channels. Today, our large portfolio of clients around the globe proves that we´ve accomplished that goal.
Apart from DOM, we´ve managed to go much further in document software. For example, our new generation of solutions allows companies to apply a great number of processes to their documents, such as generating, classifying, scanning, printing or electronically distributing them, in addition to an intelligent use of the data. This allows organizations to use their documents as a powerful means of communication with their clients (Customer Communications Management – CCM). Today, our product offering includes a wide range of document software solution packs that efficiently manage document processes and don´t require any advanced or costly maintenance services. After installation, they run without any problems.
Q: Which features stand out in DocPath´s new generation of document solutions?
A: We´ve been able to develop and implement new JAVA-based solutions that provide 100% visual environments, don´t need any programming and offer a large number of functionalities. They´re complete and yet easy-to-use solutions that are geared towards a new generation of users. .
Q: Does DocPath software require an important investment?
A: No. In fact, the average ROI is reached within a year, as the initial investment is returned through the savings that a company achieves in that first year, with its optimized document processes. Our document software solutions eliminate a lot of their costs.
In this sense, it´s also important to highlight that our solutions allow companies to replace their older technologies, without urging them towards a complete technological change. DocPath solutions are flexible and run on any type of platform. This means that the choice of changing to a completely new technology is up to each client. We may simply integrate our solutions with their existing ones, but a client may also choose to let our experts guide them through a migration process from other technologies.
Q: So, we may confirm that companies can drastically reduce their costs with these products?
A: They will surely obtain great savings. Our visual interfaces, in which all elements are logically structured, are very easy to use, both for day-to-day as for maintenance tasks. This means time and cost reductions and more efficient processes.
Q: Which business areas are you focusing on and in which countries does DocPath currently operate ?
A: Our activities are geared towards different sectors, such as banking, insurance, logistics, transport, etc. DocPath solutions are particularly effective in high volume environments, where large amounts of documents are printed and distributed through different channels every day. This is where DocPath makes a clear difference.
With regard to the countries where we´re present, we have offices in the USA, Brazil and Spain. We also have a large network of partners providing local support in nearly any part of the world. and we´re focusing on entering new, technological markets, such as China, Thailand and Vietnam. This is now possible thanks to the innovations in our software.
Q: The Paperless Era, is it here yet or will it continue to be just a dream?
A: From my experience, and I´ve been working in the document software business for more than twenty years now, I can firmly state that, today, we´re printing more than before. The main reasons are the incredibly large amount of information that can be accessed by anyone, and the fact that more and more people are working with that information. We tend to talk a lot about a world without paper, but reality proves that we ´re printing more every day.
At DocPath, we aim to develop products that enable companies to optimize their work flows and processes and we help them make better use of their resources.
Q: Over the last decade, DocPath has shown a significant business expansion. Which decisions have led your company to its current position in the market?
A: We´ve had some difficult years. But, with great effort and important investments, we´ve managed to launch our new generation of products and now we´re facing the future with optimism. We´ve risked and we´ve won.
The correct decisions that put us on the right track are, on the one hand, our ability to innovate and anticipate to market needs and, on the other hand, the fact that we´ve opted for flexibility and dynamism to face the changing needs of our clients.
Q: Which challenges will you be facing in the next years, taking into account that your business sector is constantly changing?
A: In the high volume market, we hope to achieve great success with the particular features of our products, because they enable rapid and simultaneous changes, such as the option of using different languages in the same document. Our future will also be shaped by a focus on vertical markets and our decision to enter completely new markets.
Highlighted in the original interview:
"Our product range includes very efficient products that allow companies to drastically reduce their costs."
"Our solutions pave the way for new technologies, as they are compatible with any platform."
See the original interview in Spanish on page 5 of the digital newspaper: http://www.guiadeprensa.com/prensa/cinco_dias/2015/07/27/premium_empresarial
About DocPath
DocPath is a leading document software manufacturer that provides its world-wide customers the technology that allows them to implement sophisticated Customer Communications Management and Document Output Management processes. Created in 1992, DocPath solutions are found in companies all over the world. Its international clients include prestigious banks and first class corporations, which are aided by DocPath solutions by simplifying the complicated and critical task involving the design and distribution of business and customer documents. DocPath maintains a strong commitment to R&D&i, an area that receives a good amount of its revenue, and in which lies the key to the company´s success.
For more information, visit: http://www.docpath.com
DocPath is a registered trademark of DocPath Corp. All rights reserved. Other trademarks may be the property of their respective owners.