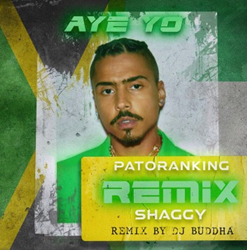 DJ Buddha's vision was to unite three voices that represent the sound – Afro-Beats, Dancehall and modern R&B
LOS ANGELES (PRWEB) November 21, 2020
Quincy doesn't let Covid-19 get in the way of a great recording session, uniting with reggaeton legend Shaggy and Africa's top streaming artist Patoranking via Google Pixel for a world-class remix of his dancehall hit "Aye Yo." The song drops Friday, November 20 through Cinq Music.
"Aye Yo" Remix taps into the African and Reggae market. Quincy once again worked with American-Trinidadian song-writer, Angele Hunte, (best known for her Grammy-winning "Empire State of Mind" for artists Jay-Z and Alicia Keys). The song was produced by top Latin producer DJ Buddha (Pitbull, Daddy Yankee, Lil John).
"DJ Buddha's vision was to unite three voices that represent the sound – Afro-Beats, Dancehall and modern R&B," says Quincy. "As a new artist, I wanted to execute a different aspect of a REMIX, not just to release a new version for the life of the song, but for our fans to see why this alliance was key in highlighting the merge of sounds and visuals. For me, creating the video was like taking two steps back, as all three of us are in different parts of the world – US, Jamaica and Nigeria."
The music video for "Aye Yo" Remix represents the "digital" parties so many are holding during the pandemic via their smartphones. In this case, a Google Pixel serves as catalyst for a recording session. "It's about uniting people in a new age," says Quincy. "I also wanted to highlight what is happening in Nigeria (SARS, a scandal involving Nigeria's Special Anti-Robbery Squad), and supporting Patoranking's movement there. I am also grateful for Shaggy, as his music brings light and rhythm to so many around the world. With this song and video, I'm in really good company."
Cinq Music Group signed Quincy earlier this year. The artist is recognized as a modern day renaissance visionary artist. He is an accredited actor, cultural content creator, fashion trendsetter, musician and tech entrepreneur.
About Cinq:
Cinq Music Group is a technology-driven record label, distribution, and rights management company. Cinq's repertoire has won Grammy awards, dozens of Gold and Platinum RIAA certifications, and numerous number ONE chart positions on a variety of Billboard charts. It's repertoire includes heavyweights such as Bad Bunny, Janet Jackson, Daddy Yankee, T.I., Sean Kingston, Anuel and hundreds more. "Janet Jackson, Anuel, T.I., Daddy Yankee, Sean Kingston, Bad Bunny and hundreds more.