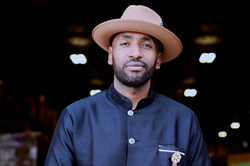 Tmah has a proven track record and has a great understanding of artist development
LOS ANGELES (PRWEB) March 24, 2020
Cinq Music Group, the technology-driven record label, distribution, and rights management company, has named Fotemah "Tmah" Mba Head A&R for US Urban/R&B. The announcement was made by Cinq Music President/co-founder Barry Daffurn. Tmah is best known for his work at Konvict Muzik, the Atlanta based label founded by R&B singer Akon.
"Tmah has a proven track record and has a great understanding of artist development," says Daffurn. "He has a knack for acquiring talent and surrounding himself with like-minded artists with a passion for music."
Tmah met Daffurn while working with Cinq/Rhythm Nation on last year's release of the Janet Jackson song/music video "Made For Now." "Barry (Daffurn) and I see eye to eye on the entire music industry," says Mba. "I want to diversify Cinq beyond hip-hop, rap and Latin. I'm looking to grow Cinq's business in branding, and catalog acquisitions, with a continued focus on international expansion."
Tmah is the son of an educator and diplomat from Cameroon, West Africa. Because of his father's job, Tmah traveled around the world early in life, living in Belgium, Algeria and New York City. When his parents retired to Africa, Tmah went to Atlanta, Georgia (Computer Science from Atlanta Metropolitan College) and Colorado (Business Marketing from Colorado Tech) to continue his studies.In 1995 Tmah met Akon, the Senegalese-American singer, songwriter, record producer, entrepreneur, philanthropist and actor. He would go on to work with Akon officially for over eight years, helping to build Konvict Muzik, as the label acquired various successful acts, such artists as T-Pain, Kardinal Offishall, Kat DeLuna, Red Cafe, Dolla and Verse Simmonds. Akon is credited with giving Lady Gaga her first big break. "I learned from Akon that anything is possible," says Tmah. "Here was a guy from Senegal doing street and pop music, pretty much doing anything he wants with sounds. He allowed me as an A&R never to restrict myself to a specific genre of music." Other artists Tmah has discovered/developed include singer/songwriter/actor Algee Smith and Chosen Jacobs, artist Jarvis, singer/songwriter Sean Garrett and multi-platinum songwriter Johnta Austin.
In addition to his A&R duties at Cinq, Tmah runs JUMP Africa (a nonprofit organization he founded) and serves on the board of Books for Africa, (the largest donor of books to the African Continent). To date, Tmah has partnered with different organizations to send over 5 million dollars worth of books and medical supplies to Africa.
About Cinq:
Cinq Music is a technology driven record label, distribution, and rights management company. Cinq's repertoire has won Grammy awards, dozens of Gold and Platinum RIAA certifications, numerous number chart positions on a variety of Billboard charts, and was nominated for Latin Rhythm Label of The Year at the 2016 Latin Billboards. http://www.cinqmusic.com