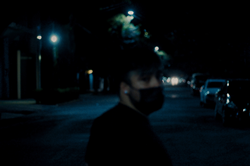 The message behind my new song and music video is FREEDOM
LOS ANGELES (PRWEB) March 09, 2021
Cinq Music has released a new single from singer/songwriter/producer COZY titled "Manipularme." The song was released with a music video directed by Luis Miguel Leal and César Rodríguez, in which the artist is seen in a haunted locale where the ghosts of his past relationships begin to appear and try to seduce him. COZY's new song can be heard now on all major streaming platforms.
According to Cozy, "Manipularme" is a song based on real events where he sings about a relationship with his ex where everything begins to turn toxic. "My ex tries to repair the broken relationship by manipulation," he says. "I resist and do not let it happen."
COZY began his music career as a producer, working behind the scenes on such hits as as "Que Vas a Hacer" by Yandel with Maluma, "Ponme Al Día" a collaboration of Jhay Cortez, "Mojada" de Fuego, "Suave" by Matt Hunter & Corina Smith, among others.
"The message behind my new song and music video is FREEDOM,' says COZY. "I want people to feel free to think that we can be better than our worse version."
About Cinq:
Cinq Music Group is a technology-driven record label, distribution, and rights management company. Cinq's repertoire has won Grammy awards, dozens of Gold and Platinum RIAA certifications, and numerous number one chart positions on a variety of Billboard charts. Its repertoire includes heavyweights such as Anuel, Bad Bunny, Daddy Yankee, Janet Jackson, Sean Kingston, T.I., and hundreds more." http://www.cinqmusic.com