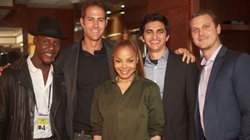 "Janet is a singular talent, a pop culture icon, incredibly innovative and socially conscious, a true music superstar."
LOS ANGELES (PRWEB) August 16, 2018
Indie distributor, label and publisher Cinq Music has partnered with global icon Janet Jackson for a recording and distribution agreement through her label Rhythm Nation Records for her recently announced new single, "Made For Now" featuring Reggaeton superstar Daddy Yankee. At 12am on Friday, August 17, the "Made For Now" video will debut on Janet's You Tube page and later that morning she and Daddy Yankee will appear on MTV's "TRL AM" at 8:00 a.m. EST to discuss the project. The announcement was made by Janet, her brother Randy, who is her partner at Rhythm Nation Records, GoDigital Media Group and Cinq Chairman Jason Peterson alongside Cinq co-founder and President Barry Daffurn.
"Janet is a singular talent, a pop culture icon, incredibly innovative and socially conscious, a true music superstar," says Daffurn. "Her career is a highlight reel of an artist pushing the boundaries of pop music. Together, we'll leverage Cinq's data-driven toolbox, global presence, and best-in-class capabilities in Latin and Urban music to connect with and grow her worldwide fan base."
The "Made For Now" video is an ambitious multi-million dollar Dave Meyers-directed music video for the song recently shot in Brooklyn, NY. ,Meyers has collaborated with Jackson extensively, including previous videos "All For You," "No Sleep," and "Dammn Baby" as well videos for other megastars including Kendrick Lamar and SZA ("All the Stars"), Ariana Grande ("God is A Woman") and Camila Cabello ft. Young Thug ("Havana").The "Made For Now" video is produced by Peterson, along with Nathan Scherrer and Justin Diener from Freenjoy (productions for Beyoncé, Drake and Kendrick Lamar). Additional songs and videos are also scheduled for release later this year.
Janet Jackson is one of the most influential entertainers of the modern era. Her music has won her 6 GRAMMY® Awards, 2 Emmy Nominations, a Golden Globe Award, a nomination for an Academy Award along with dozens of American Music Awards, MTV Video Music Awards and Billboard Music Awards. She has received accolades as an actress as well including the NAACP Best Supporting Actor award. Janet is a published author, dancer, businessperson, philanthropist and one of the biggest-selling artists in popular music history. With sales of over 160 million records worldwide, Janet Jackson stands as one of the best-selling artists of all time with a string of hits that have left an indelible impression on pop culture. Her music and artistry has opened doors through which other top artists have followed, many acknowledging her impact on their musical perceptions. She is currently touring this summer as part of an extension of her outstanding and in-demand State of the World Tour with stops remaining in Raleigh, NC (Aug. 1), Charlotte, NC (Aug. 3), Miami (Aug 5), Tampa (Aug. 7), Lake Tahoe Outdoor Arena at Harvey (Aug. 10), and Outside Lands Music Festival in San Francisco (Aug. 12).
About Cinq:
Cinq Music is a technology driven distributor, record label and rights management company. Cinq's repertoire has won four Grammy awards, dozens of Gold and Platinum RIAA certifications, numerous number one chart positions on the Latin Urban and Tropical Billboard charts and was nominated for Latin Rhythm Label of The Year at the 2016 Latin Billboards. http://www.cinqmusic.com. Cinq Music is a GoDigital Media Group company http://www.godigitalmg.com