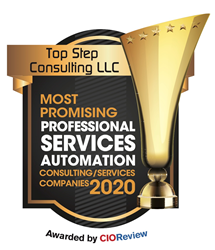 Top Step has empowered professional services organizations to become efficient and profitable through automation for over 12 years.
METAIRIE, La. (PRWEB) October 20, 2020
Top Step, a leading provider of Professional Services Automation solutions, has been awarded the CIOReview list of the 10 Most Promising Professional Services Automation Consulting Companies 2020. The technology magazine, that serves as a trustworthy knowledge source that shares their insights of new technology trends in the market, selected Top Step based on its proven track record and it's expanding role as a Professional Services Automation Solution Provider.
A distinguished panel comprising CEOs, CIOs, and analysts, including CIOReview's editorial board, analyzed a list of highly sought after PSA solution providers. The selection process entailed reviewing the vendor's capability to fulfill business missions and requirements while providing the right expertise to address the professional services industry's varied and complex needs. Top Step provides high-quality PSA solutions through its expertise and offerings of business efficiency assessment, implementation, system integration, and virtual administration services.
"We are excited and honored to be included in the annual listing, which awards ten companies that are at the forefront of providing Professional Services Automation consulting services and recognized as transforming these PS businesses. Top Step has empowered professional services organizations to become efficient and profitable through automation for over 12 years. Our focus on the professional service industry and professional services automation provide our customers with exceptional solutions to industry problems." said Ronn Breaux, President and CEO, Top Step.
Top Step's expertise within the Professional Services industry originates from their success with their over 380 professional services automation customers. The company is the only consultancy across the globe with a primary focus on NetSuite OpenAir PSA providing solutions that allow professional services organizations to be profitable, scalable, and efficient through professional services automation, process enhancement, change management, and skill set training. PSA solutions are uniquely designed for professional services organizations to manage projects, resources, and finances, all in one integrated service management application. The most profitable and growing professional services firms leverage PSA solutions like NetSuite OpenAir to rise above their competition and succeed.
Read more about what CIOReview has to say about Top Step: https://psa.cioreview.com/vendor/2020/top_step_llc.
About Top Step
Top Step improves business efficiency and productivity for Professional Services business operations. They help clients achieve their profitability goals allowing them to focus on building their business. Their team has extensive experience in professional services business operations, professional services automation (PSA), and project management. They have served over 380 organizations across the globe and have been awarded "Best of the Best" by SPI Research and named as one of the fastest-growing private companies by Consulting Magazine and Inc. 5000. To learn how Top Step brings operational efficiency for Professional Services, visit http://www.topstepllc.com.