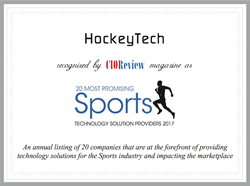 We are glad to announce HockeyTech in our annual ranking list of the 20 Most Promising Sports Technology Solution Providers 2017
Waterloo, Ontario (PRWEB) July 19, 2017
HockeyTech, the worldwide leader in providing hockey-related technologies, analytics, and information services, today announced its recognition as one among the elite group of companies that are featured in the Sports Technology special edition of CIOReview Magazine.
"We are glad to announce HockeyTech in our annual ranking list of the 20 Most Promising Sports Technology Solution Providers 2017," said Jeevan George, Managing Editor of CIOReview "This honor will bring more recognition to HockeyTech as a true leader in sports technology."
According to CIOReview, technology has become a foundation upon which today's athletes could build upon and make more of their capabilities. Coaches, clubs and other entities in the sporting world have begun to realize and realign themselves to this disruption. Sports technology offerings thus fit well at the intersection of B2B and B2C, harboring possibilities to proliferate into the daily lives of the general population. Service and solutions portfolio in this realm range across sports software and analytics, wearable tech, tracking systems, broadcast technologies and improved equipment vendors.
"We are honored to be selected by CIOReview Magazine as one of the most promising sports technology providers", says HockeyTech CEO Stu Siegel. "While we've received recognition inside the sports industry, this recognition by a distinguished panel comprised of CEOs, CIOs, VCs, and industry analysts is a special testament to our team."
To view the digital version of the CIOReview Sports Technology Edition, click this link:
https://magazine.cioreview.com/magazines/July2017/Sports/#page=14
About HockeyTech
HockeyTech is the worldwide leader in providing hockey-related technologies, analytics, and information services. HockeyTech was founded in 2013 by Stu Siegel, a technology entrepreneur and former Florida Panthers (NHL) Managing Partner/CEO. HockeyTech has made five company acquisitions to date, integrating and developing one-of-a-kind hockey-focused tools.
For more information, visit: HockeyTech.com
About CIOReview Magazine
Published from Fremont, California, CIOReview is a print magazine that explores and understands the plethora of ways adopted by firms to execute the smooth functioning of their businesses.
For more information, visit: CIOReview.com