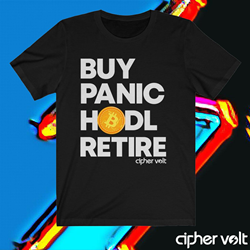 Cipher Volt's model offers altcoin projects a quick, efficient way to offer branded merch to their community. It's like free marketing for all participating crypto projects.
GLENDORA, Calif. (PRWEB) April 27, 2021
As Bitcoin reached all-time highs earlier this year, suddenly everyone began talking about cryptocurrency. Then when an NFT sold for over $60 million last month, NFTs ("non-fungible tokens") entered the public consciousness—seemingly overnight. A new company, Cipher Volt, builds on these exciting developments, offering cryptocurrency enthusiasts a way to "represent crypto through fashion."
Cipher Volt produces crypto-branded merch, and will soon offer corresponding NFTs for select designs. More than a "collectible" with bragging rights and dreams of future price appreciation, Cipher Volt's NFTs offer royalties to the holder.
As market awareness and demand drive the value of cryptocurrencies, Cipher Volt's founders—self-described "bullish blockchain believers with backgrounds in fashion and marketing"—started the company to promote crypto adoption. The company's designs will initially launch on t-shirts, though other products remain in the works. Wearable products like t-shirts allow crypto enthusiasts an easy way to "rep" their favorite projects in everyday life.
"When crypto investors discover a game-changing blockchain project, they often feel like shouting it from the rooftops," said Cipher Volt's founder. Beyond sharing a great opportunity with others, token holders have additional motivation to spread the word: as the number of investors increase, so do the chances of a skyrocketing token price.
"Our products offer an advantage to crypto projects, and to all its investors, by spreading the word and increasing brand recognition. It's a win-win," said the founder. "What could be easier than wearing a hip, conversation-starting t-shirt?"
Cipher Volt's website displays their first t-shirt, "Buy, Panic, Hodl, Retire," currently available in three variants: Bitcoin, Ethereum, and Centric. The "o" of "Hodl" on each design is replaced by an image of the corresponding crypto logo. The company already has "dozens of designs," and they aim to release "about one per month."
Most of Cipher Volt's designs are created by independent designers. The company offers designers a ten percent royalty on products featuring their design. Cipher Volt manages the royalty program through NFTs. Designers can choose to hold the NFT for their design and retain their claim to the royalties; or they can sell it via auction, thereby transferring royalty rights to the new holder. Cipher Volt pays out royalties every six months, deposited into the wallet holding the NFT. The first Cipher Volt NFT is for the Centric variant of the "Buy, Panic, Hodl, Retire" design—the firm's top seller.
"We are passionate about growing cryptocurrency awareness and adoption," said the founder. "Our model offers altcoin projects a quick, efficient way to offer branded merch to their community."
Partnering with Cipher Volt also enhances token discoverability, as crypto fans visit the company's marketplace and follow the brand on social media.
"It's like free marketing for all participating crypto projects," said the founder. "Projects wishing to collect royalties on products featuring their brand are free to bid for the NFTs."
Cipher Volt offers free shipping on their shirts, and accepts both domestic and international orders through the company's online store. Those interested in bidding on NFTs can visit ciphervolt.com for details. Cryptocurrency projects interested in including their brand on future designs should email Cipher Volt.
About Cipher Volt
Cipher Volt allows cryptocurrency enthusiasts and projects to "represent crypto through fashion." Every Cipher Volt product and design is chosen meticulously. Cipher Volt's initial products are t-shirts—soft cotton, true-to-size, unisex style. Additional merch, including hoodies, coffee mugs, and more will follow later this year. New designs drop roughly every month. Cipher Volt offers royalty-bearing NFTs for select designs.