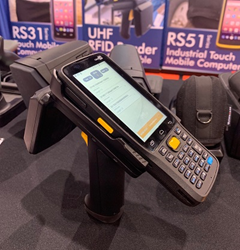 The deployment of RFID technologies has been picking up in environments such as warehouse operation, logistics, manufacturing, and retailing industries. UHF RFID systems are getting more attention due to the benefits it could generate and the improvement that has been made. We aim to fulfill as many
PHOENIX (PRWEB) April 03, 2019
CipherLab, an established leader in Automatic Identification and Data Capture presented the new RK25 UHF RFID Gun reader today at RFID Journal Live 2019 at Phoenix Convention Center from April 2-4. The RK25 UHF RFID Gun Reader is designed to provide flexibility in data collection considering RFID technology has become a complementary solution to barcode labeling. Unique from typical RFID Readers, the CipherLab RK25 UHF RFID Reader provides user extended RFID reading and writing capabilities. Additionally, it gives user the capability to read UHF (Ultra High Frequency) RFID tags in a distance up to 8 m (24 ft.) – this makes it much easier while scanning tags on products as pallets are moved through a dock door or scanning cases on a high shelf in a warehouse.
"The deployment of RFID technologies has been picking up in environments such as warehouse operation, logistics, manufacturing, and retailing industries. UHF RFID systems are getting more attention due to the benefits it could generate and the improvement that has been made. We aim to fulfill as many needs and expand our products to better serve our customers," commented by Luis Wu, Vice President and General Manager of CipherLab USA.
The RK25 UHF RFID Gun Reader is armed with proven durability. It is certified with IP54 rating and sustains multiple drops on concrete from 1.2 m (4 ft.). Simultaneously, the RK25 UHF RFID Reader can be easily configured through an app on RK25 or programmed by its SDK.
For more details and specifications regarding CipherLab RK25 UHF RFID Gun Reader or other CipherLab products, please visit RFID Journal Live 2019 at Phoenix AZ or send an email to NASales(at)cipherlab.com or contact our office at 888-300-9779 by phone.
About CipherLab
CipherLab is a global leader in the design, manufacture, and marketing of Automatic Identification and Data Capture/Collection products and systems. The company's mobile computers and scanners are integrated into the networks of some of the world's best known logistics, retail, distribution, government installations and healthcare companies, helping them run more efficiently and effectively onsite and on the road. CipherLab USA is headquartered in Plano, TX. For more information, please visit http://www.cipherlab.com or like us at http://www.facebook.com/CipherlabUsa.