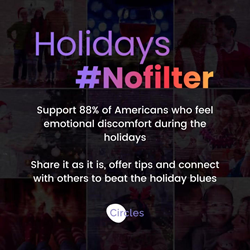 TEL AVIV, Israel (PRWEB) November 11, 2021
For more than 37 million Americans, the holiday season causes feelings of extreme loneliness and anxiety.
This year, Circles, an online, emotional support platform that ensures no one has to overcome life's challenges alone, has announced it is offering 500 hours of free group support sessions throughout the holiday season through its Holidays #NoFilter campaign. Featuring additions from Circles partners, Vee, Grief Coach, CalmiGO, Venn, Lumen, Alike and more, Holidays #NoFilter is a free online toolkit that offers support to those who feel loneliness, anxiety, and grief over the holiday season. The toolkit also includes one free 60-minute Circle session per participant.
The Circles platform enables meaningful connections and establishes supportive communities that are led by professional facilitators and built on mutual care. The platform matches groups of 6-8 people who are facing similar issues in their lives in intimate and private emotional support sessions where they can be understood in a way never before possible online. By surrounding users with safe, structured communities led by professionals, Circles enables people to share freely in order to heal together.
"Everyone deserves compassion and support. We know that the holiday season can be a stressful and lonely time. Our goal is to create a space where people can come together to share their experiences," said Irad Eichler founder and CEO of Circles. "No one should feel that they are alone, and their Circle is a place where they can explore their challenges and pain within a carefully assembled emotional support network.."
According to data provided by Circles:
-70% of members feel supported after their weekly Circle.
-77% of members feel a sense of satisfaction from sharing with others.
-86% of members say their Circle makes them feel hopeful.
Holiday Circles are available from December 22 through December 26, and are led by highly trained and certified therapists, psychiatrists, counselors, and group facilitators. Registration is free. Spaces are limited. There is no commitment to join.
To access this free online toolkit, visit lifewithnofilters.com.
###
About Circles
Circles is a revolutionary online, emotional support platform that ensures no one has to overcome life's challenges alone. Founded by Irad Eichler and Dan Landa in 2020, Circles enables people to be heard, understood, and supported by others who are going through similar experiences in small online groups guided by professional facilitators. Awarded the 2021 Best Platform for Group Therapy by VeryWell Mind, Circles members support each other through weekly video sessions and online chat, accessible anytime through the Circles' app. Circles users can also access personalized content, including self-help exercises, blogs, and webinars at no extra cost. To learn more about Circles, visit circlesup.com.