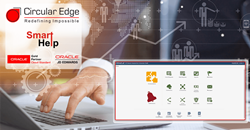 Having advanced access to the latest and greatest tools enables us to better support Oracle JD Edwards customers in achieving these goals while staying current and continuously delivering innovative solutions.
SOMERSET, N.J. (PRWEB) December 03, 2019
Circular Edge, a Gold level and Cloud Standard member of Oracle PartnerNetwork (OPN), continues its investment in the quality and future of Oracle's JD Edwards EnterpriseOne by participating in the Orchestrator Studio beta program which validated the latest Orchestrator enhancements now available in Tools Release 9.2 Update 4.
Extending their commitment to delivering a future-proof platform and technologies that enable digital transformation, Oracle JD Edwards recently announced Tools 9.2.4 which includes significant and innovative improvements to help customers drive digital process transformation, enhance user experiences and realize operational simplification. Featured customer-driven highlights include:

Redesigned Orchestrator Studio that streamlines the process of creating complex orchestrations for technical and non-technical users
New Scheduler user interface that makes it easier to manage scheduled jobs, form extensibility with orchestration support and simplified Orchestrator deployment & security processes
Circular Edge was among a selected group of partner and customer companies who were given full access to the latest Orchestrator Studio to review and test enhancements in advance of the release. During the early release testing program, selected partners and customers collaborated with Oracle's JD Edwards product development teams to ensure product readiness.
"The JD Edwards product development team is grateful to Circular Edge for their active participation in our Orchestrator Studio Beta program. Their contributions have helped to ratify our product direction and strengthen the product prior to its release. Circular Edge is now poised for continued success in helping customers transform their enterprises through the power of the JD Edwards EnterpriseOne Orchestrator," said AJ Schifano, product manager, Oracle JD Edwards.
To further help customers understand, assess and realize the benefits and possibilities with Orchestrator, Circular Edge offers several complementary resources and educational webinars:
"As organizations continue to seek ways to reduce operational costs while improving efficiencies, JD Edwards EnterpriseOne customers possess a unique opportunity to leverage the native robotic process automation capabilities of Orchestrator," said sAchin cHoudhari, CEO and Founder. "Having advanced access to the latest and greatest tools enables us to better support Oracle JD Edwards customers in achieving these goals while staying current and continuously delivering innovative solutions, as well as equipping Circular Edge employees with the in-depth knowledge and release expertise necessary to actively educate our Oracle JD Edwards customers."
Circular Edge's Smart Help Staff Aug+ is an award-winning skill-based support formula that enables customers to tap into 160+ direct staff technical and functional resources whenever needed for as long as needed, combining specialized skills with a customer's internal team to automate and improve efficiencies among processes and people while supporting, optimizing and staying code current on Oracle JD Edwards, Cloud and third-party systems across the entire organization.
For more information on Oracle's JD Edwards EnterpriseOne Tools Release 9.2 Update 4, view the announcement at LearnJDE.com. To access the Tools 9.2.4 or Orchestrator demo replays and to request access to additional resources, visit http://www.circularedge.com.
About Circular Edge
Circular Edge (CE), started in 2003, is an award-winning, full-service Oracle JD Edwards, Oracle Customer Experience (CX) & Cloud Service Provider. Built from the ground up as an Oracle JD Edwards consulting company, CE employs a direct staff of 160+ functional and technical resources who bring extensive Oracle JD Edwards, Oracle CX & Cloud domain expertise into short- and long-term projects, managed services and staff augmentation engagements. CE also delivers packaged solutions such as AtomIQ, Smart Scheduler (3x OVI), JDESign, AutoXCHNG, Lead2Lease & Oracle CX Add-Ons. Learn more about CE product & service innovations including Smart Help, our 2x award-winning customer success formula by visiting http://www.circularedge.com.
Follow Circular Edge on LinkedIn and Twitter.
About Oracle PartnerNetwork
Oracle PartnerNetwork (OPN) is Oracle's partner program that provides partners with a differentiated advantage to develop, sell and implement Oracle solutions. OPN offers resources to train and support specialized knowledge of Oracle's products and solutions and has evolved to recognize Oracle's growing product portfolio, partner base and business opportunity. Key to the latest enhancements to OPN is the ability for partners to be recognized and rewarded for their investment in Oracle Cloud. Partners engaging with Oracle will be able to differentiate their Oracle Cloud expertise and success with customers through the OPN Cloud program – an innovative program that complements existing OPN program levels with tiers of recognition and progressive benefits for partners working with Oracle Cloud. To find out more visit: http://www.oracle.com/partners.
Trademarks
Oracle and Java are registered trademarks of Oracle and/or its affiliates.