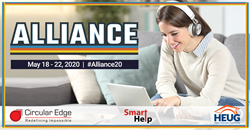 It is near and dear to us at CE to do our part in supporting Oracle customers through this challenging time, especially those in the higher education industry who are facing extraordinary challenges in supporting their campus communities
SOMERSET, N.J. (PRWEB) May 21, 2020
Understanding the remarkable opportunity for organizations to adopt and modernize their digital technologies, Circular Edge is aligning its resources to support higher education institutions who are facing unprecedented challenges in reaching, engaging and retaining current and prospective students.
Circular Edge, a Gold level and Cloud Standard member of Oracle PartnerNetwork (OPN), recently supported a community college in strengthening their student engagement practices and realizing the value of marketing automation in personalizing their messaging. While the college already had strategies and approaches in place to track, assess, analyze and respond to student data, the process of delivering personalized experiences to prospective, incoming and current students was manual and time-consuming, not to mention mission-critical to serve the right information to the right individual at the right time.
Integrating marketing automation technologies with their ERP enabled the college to reach students across lifecycles and digital channels, whether recruitment follow-ups, requests for transcripts and records, tuition and financial aid, campus activities, courses, etc. Bringing this data together also enabled marketing, recruiting and support teams to gain insight into students' unique needs, preferences and motivations to automate and tailor communications across email, web and mobile to maximize engagement.
To highlight this story as well as demonstrate how higher education institutions of all types can align their people, technology, systems and applications to deliver personalized experiences, Circular Edge will participate in a featured virtual education session during the Higher Education User Group (HEUG) Alliance Virtual 2020, held May 18-22. Register to join the live session and access the replay on-demand:

Alliance Virtual 2020 also includes dedicated educational sessions around real-life use cases from COVID-19, Constituent Experience and Advancement (CX), Campus Solutions, Roadmaps & more.
"It is near and dear to us at CE to do our part in supporting Oracle customers through this challenging time, especially those in the higher education industry who are facing extraordinary challenges in supporting their campus communities," said sAchin cHoudhari, CEO & Founder. "I have a daughter who attends Rutgers University and she, like many others, is having to adjust and adapt to the new learning environment. I want the best for her and all students who deserve a high-quality education experience."
Another way Circular Edge is supporting not only the higher education industry, but the Oracle community as a whole is through several complimentary resources and educational webinars:
For more information and to access these resources, visit http://www.circularedge.com
About Circular Edge
Circular Edge, started in 2003, is a full-service Oracle ERP and Cloud service provider. We bring extensive ERP expertise into Oracle CX Cloud implementations to deliver Integrated ERP/CX Digital Experiences, including extended post go-live and upgrade cycle support, systems design, training/skills enablement, reports, development, enhancements, conversions and application integrations via Smart Help. For more information about Circular Edge, visit http://www.circularedge.com
Follow Circular Edge on LinkedIn and Twitter.
About Oracle PartnerNetwork
Oracle PartnerNetwork (OPN) is Oracle's partner program that provides partners with a differentiated advantage to develop, sell and implement Oracle solutions. OPN offers resources to train and support specialized knowledge of Oracle's products and solutions and has evolved to recognize Oracle's growing product portfolio, partner base and business opportunity. Key to the latest enhancements to OPN is the ability for partners to be recognized and rewarded for their investment in Oracle Cloud. Partners engaging with Oracle will be able to differentiate their Oracle Cloud expertise and success with customers through the OPN Cloud program – an innovative program that complements existing OPN program levels with tiers of recognition and progressive benefits for partners working with Oracle Cloud. To find out more visit: http://www.oracle.com/partners
##
Trademarks
Oracle and Java are registered trademarks of Oracle and/or its affiliates.