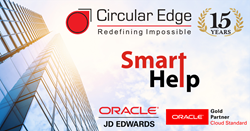 "Oracle JD Edwards keeps making it better and easier for companies to embrace EnterpriseOne for the foreseeable future as they modernize user experiences, enable citizen developers, connect to cloud apps and IoT devices, and transform into Digital Enterprises."
SOMERSET, N.J. (PRWEB) October 02, 2018
Circular Edge, a Gold level and Cloud standard member of Oracle Partner Network (OPN), demonstrates its support of Oracle JD Edwards customers who are on or considering EnterpriseOne 9.2 through its new whitepaper and Smart Help services for upgrades, Cloud migrations, managed services, project and resource supplementation, skills enablement and more.
With the transformational capabilities that continue to be delivered in EnterpriseOne 9.2 releases, the opportunity for Oracle JD Edwards customers to leverage the newest tools, features and technologies to modernize and digitize their business is unprecedented. Additionally, the shift to a continuous innovation model, where Oracle JD Edwards delivers smaller enhancements on a regular basis and customers adopt code-current strategies, has enabled organizations to rapidly adopt tools such as the JD Edwards Orchestrator, UX One, Out-of-the-Box Mobile Applications, Notifications and User-Defined Objects (UDOs) to automate and streamline business processes and improve user experiences.
As a supplemental resource to the content available at LearnJDE and the Quest Oracle Community, Circular Edge recently published the JD Edwards EnterpriseOne 9.2.x Capabilities Outline to better equip Oracle JD Edwards customers to move forward with understanding, presenting and realizing the value of continuous innovation with 9.2.
The outline and accompanying 9.2 Upgrade Matrix template provide a holistic view of the available tools, features and technologies so as to guide customers in:
-Identifying specific technologies their business can leverage
-Determining areas to invest more time in exploring
-Aligning new capabilities to specific business needs
-Realizing the value of continuous adoption & innovation
This whitepaper resource is available to Oracle JD Edwards customers upon request.
According to data shared at Quest's JD Edwards INFOCUS 2018 conference, customers running EnterpriseOne 9.2 will soon represent more than 50% of the Oracle JD Edwards install base with over 75% of the remaining customers already in the process of upgrading or planning to upgrade by 2020.
Moving to EnterpriseOne 9.2 represents an opportunity to not only leverage the newest tools and features, but also to take advantage of longer support timelines and the new Simplified Upgrade process. Specifically, Oracle JD Edwards announced an extension of Premier Support through at least 2030, enabling customers to gain access to new features and capabilities on their existing release with the option of running the same applications on premise or migrating them to the Cloud.
Organizations who are upgrading from EnterpriseOne 9.0 Update 2 or 9.1 can also take advantage of Simplified Upgrades, which streamline the process of retrofitting, testing and training by identifying and replacing only the EnterpriseOne objects that have changed between Application Releases.
Extended Support and the Simplified Upgrade process were business drivers behind a recent EnterpriseOne 9.1 to 9.2 upgrade for a Circular Edge customer in the Real Estate industry who took advantage of their move from a traditional hosted environment to the Cloud to also accomplish a 9.2 Applications upgrade.
In another case, an Electrical Manufacturing company running EnterpriseOne 9.0 had discontinued Oracle JD Edwards maintenance several years ago. The availability of extended support combined with new tools and technologies such as JD Edwards Orchestrator and a simpler user interface provided a compelling opportunity to modernize business processes. This Circular Edge customer decided to go back on Oracle JD Edwards maintenance and is in the process of upgrading to 9.2 to meet both current and future business needs.
A third example is from the Life Sciences industry, where a global manufacturer with over a dozen entities running disparate ERPs had acquired another US based manufacturer running EnterpriseOne 9.1 and already planning to upgrade to 9.2. After evaluating the needs of each entity and the available options for consolidating onto a single global ERP solution, the decision was made to go with Oracle JD Edwards and begin a multi-phased project for rolling out EnterpriseOne 9.2 across their entities.
Customers in all of these scenarios utilize Circular Edge's Smart Help skills and resources to accomplish their upgrade goals in whatever way is best for their unique situation. Smart Help is a flexible and elastic skill-based support formula designed to cover all aspects of a customers' Oracle JD Edwards and Oracle CX ecosystems while complimenting and partnering with the existing skills and resources of each customer.
When upgrading and/or migrating to the Cloud, Circular Edge customers can choose from a wide variety of skills and resources, including functional, CNC, retrofitting, project management, UX One innovation, development, go-live and post go-live support, empowering each customer to determine how they want to blend Smart Help with their existing capabilities. Oracle JD Edwards customers can also benefit from Circular Edge's Lift, Shift and Manage offering, which enables customers to upgrade their way across any cloud.
A Non-Profit Publishing company, for example, moved from JD Edwards 8.12 to 9.2 while migrating from a legacy hosted environment to Oracle Cloud during their upgrade project. Utilizing Smart Help technical resources, the company has been able to manage the PMO and majority of CNC responsibilities while also utilizing their inhouse developers, business analysts and power users. Circular Edge provided a series of ERP assessments to help identify functionality gaps and opportunities as well as best practices and CNC guidance in support of and while migrating to Oracle Cloud Infrastructure, including Middleware and Application support, and supplementation of load testing, QA and retrofitting resources.
"Oracle JD Edwards keeps making it better and easier for companies to embrace EnterpriseOne for the foreseeable future as they modernize user experiences, enable citizen developers, connect to cloud apps and IoT devices, and transform into Digital Enterprises. We are excited to play a part in doing the same for our Customers," said sAchin cHoudhari, Founder and CEO. "Working as partners, Customer enablement is key as we move towards mutual success. We believe in keeping things simple and interesting and this helps accomplish our projects on-time and on-budget."
In recognition of Smart Help's success supporting Oracle JD Edwards customers, Circular Edge was recognized last year by Oracle JD Edwards with the prestigious Customer Focus Award for overall Customer Success Stories for delivering integrated ERP/CX digital experiences across distribution, construction, real estate and apparel industries. The award also represented Circular Edge's outstanding work in helping its customers drive significant business value while implementing innovative solutions with their Oracle JD Edwards software.
For organizations who have yet to determine their go forward ERP strategy, Circular Edge has developed an educational session and workshop entitled "9.2 Business Motivators to Continuously Upgrade (to EnterpriseOne 9.2)". This executive summary and overview workshop is delivered in parallel with the 9.2 Upgrade Matrix template and is also available to Oracle JD Edwards customers upon request. Contact Circular Edge for scheduling details.
About Circular Edge
Circular Edge, started in 2003, is a full-service Oracle JD Edwards, Oracle Sales Cloud, Oracle Configure Price Quote Cloud & Oracle Customer Experience (CX) Cloud Integrations Service Provider. Built from the ground up as a JD Edwards consulting company, we bring extensive JD Edwards, Oracle Sales Cloud & Oracle CPQ Cloud domain expertise into Oracle CX Cloud implementations to deliver Integrated ERP/CX Digital Experiences as well as extended post go-live and upgrade cycle support, systems design, training/skills enablement, reports, development, enhancements, conversions and application integrations via Smart Help. For more information about Circular Edge, visit http://www.circularedge.com
About Oracle PartnerNetwork
Oracle PartnerNetwork (OPN) is Oracle's partner program that provides partners with a differentiated advantage to develop, sell and implement Oracle solutions. OPN offers resources to train and support specialized knowledge of Oracle's products and solutions and has evolved to recognize Oracle's growing product portfolio, partner base and business opportunity. Key to the latest enhancements to OPN is the ability for partners to be recognized and rewarded for their investment in Oracle Cloud. Partners engaging with Oracle will be able to differentiate their Oracle Cloud expertise and success with customers through the OPN Cloud program – an innovative program that complements existing OPN program levels with tiers of recognition and progressive benefits for partners working with Oracle Cloud. To find out more visit: http://www.oracle.com/partners.
Trademarks
Oracle and Java are registered trademarks of Oracle and/or its affiliates.