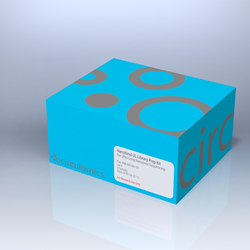 These products represent the firm's expansion from HMW DNA extraction into library preparation
BALTIMORE (PRWEB) October 02, 2020
Circulomics has won a $1.6M Direct to Phase II SBIR award from NHGRI to create advanced versions of its Short Read Eliminator kits. Short Read Eliminator enhances long-read sequencing read lengths by depleting short DNA from high molecular weight (HMW) DNA samples. Since launching in 2019, Short Read Eliminator has become a leading method of size selection for nanopore sequencing. Three size selection cutoffs are currently offered with depletion beginning at 10, 25, and 40 kb depending on which version is used.
This award will drive new applications and increase size selection capabilities to further enhance and control sequencing read length distributions. It is complemented by a $1.5M Phase II SBIR grant awarded by NIGMS in 2019 to develop new library preparation kits using Circulomics' Nanobind magnetic disk technology. A $400k supplement was also recently awarded by NIGMS to apply these methods for high throughput ultra long nanopore sequencing.
For optimal sequencing results, DNA quality must be preserved from extraction through library prep and sequencing. These products represent the firm's expansion from HMW DNA extraction into library preparation to offer customers an integrated suite of sequencing sample preparation products that can be combined with the Nanobind Big DNA Extraction Kits.
The first product to result from these new grants is already in beta testing and expected to launch in late 2020. The Nanobind UL Library Prep Kit will be released along with a new library preparation protocol to generate large number of ultra long (100 kb – 1+ Mb) reads on Oxford Nanopore MinION, GridION, and PromethION. This method generates 10 – 100X greater throughput than previous ultra long methods (up to 20 Gb on MinION and 60 Gb on PromethION) with read length N50 of 50 – 100+ kb and a tail extending up to 2+ Mb. This new method has been used to generate record breaking reads up to 4 Mb in length.