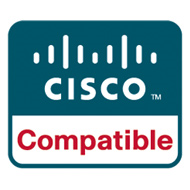 East Hartford, CT (PRWEB) May 30, 2017
Coordinated Systems, Inc. (CSI), of East Hartford, CT, a member of the Cisco Solution Partner Program, has tested compatible for Virtual Observer (VO) Workforce Optimization (WFO) suite for the latest Cisco telephony platform release of Cisco Unified Communications Manager 11.5.
This latest certification coincides with the recent announcement of end of life support for Cisco MediaSense, a basic call recording integration provided with many Cisco installations.
Cisco recently announced the end of life on their own web site: "Cisco announces the end-of-sale and end-of-support dates for the Cisco MediaSense 10.x. The last day to order the affected product(s) is October 4, 2017."
CSI is making it even easier for Cisco MediaSense customers to transition seamlessly to a full WFO environment by replacing the MediaSense recording licenses at a discounted price as well as offering the first year of maintenance at no charge. Included with the Virtual Observer recording license is a complete suite of quality monitoring features including interaction scoring and evaluation, performance and trending reporting with dashboard analytics, agent portal with e-learning, as well as the VO Live set of agent assistance tools, which offer real-time agent screen monitoring, chat assistance and supervisor screen control. The solution also offers agent webcam recording and monitoring for additional performance coaching.
CSI offers Virtual Observer through a number of Cisco resellers and system integrators. Interested customers can contact CSI to enroll in this limited time discounted program until September 1, 2017.
Virtual Observer's additional capabilities include Affordable Cloud-Based Speech Analytics, Rules-Based Screen Capture, Business Intelligence, 256-bit Media Encryption, PCI Redaction, Advanced Security Options for PCI & HIPAA, Salesforce Integration & Zendesk Social Media Monitoring, Surveying, and Workforce Management.
About Coordinated Systems, Inc.
Coordinated Systems, Inc., (CSI), has thrived on building high-quality, long-term relationships with customers and partners. CSI's flagship product, Virtual Observer (VO), is a call recording and workforce optimization solution for contact centers. VO provides an extremely high value to price and tremendous customer satisfaction.