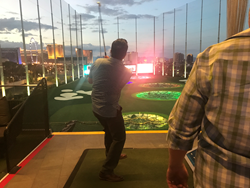 Everyone had a great time golfing and meeting other professionals converging on Las Vegas for the amazing conferences this week
Las Vegas, NV (PRWEB) August 03, 2017
Every July, the information security world converges on Las Vegas, Nevada for a week of hacking, learning, and networking at three of the largest security conferences of the year: Black Hat, Def Con, and B-Sides. EC-Council, creator of the Certified CISO program, hosted an event at Top Golf Las Vegas on July 26, 2017 attracting executives from Disney, Las Vegas Sands Corp., Bank of America, AIG, among others.
Attendees enjoyed access to golfing bays where they tested their skills against Top Golf's game system, food, drinks, and networking opportunities. The event was presented by Templar Shield and sponsored by Lynx Technology Partners, Swimlane, Prevalent, and Cobalt Crowdsourced Pen Testing.
EC-Council has a history of hosting executive receptions at large information security conferences giving executives a chance to mingle with other like-minded professionals in a fun atmosphere. Starting in 2014 with EC-Council's first cocktail reception in San Francisco corresponding with RSA's annual US conference, the events have proven popular. The receptions have attracted hundreds of professionals looking for an executive environment where they can meet their peers.
Eric Lopez, VP of EC-Council, said "The event drew big names from around the industry and brought a lot of value to our partners. Everyone had a great time golfing and meeting other professionals converging on Las Vegas for the amazing conferences this week."
EC-Council also presents their own large security events around the world. Next on the calendar is an executive FinTech conference in Singapore on August 25, followed by the CISO Summit Netherlands in The Hague on September 26. The largest two events of the year are the Global CISO Forum and Hacker Halted in Atlanta, GA October 9-10, giving both the researchers and analysts as well as CISOs events tailored to their interests.
For inquiries regarding any of EC-Council's events, please contact Amber.Pedroncelli@eccouncil.org.
About EC-Council 
EC-Council has been the world's leading information security certification body since the launch of their flagship program, Certified Ethical Hacker (CEH), which created the ethical hacking industry in 2002. Since the launch of CEH, EC-Council has added industry-leading programs to their portfolio to cover all aspects of information security including EC-Council Certified Security Analyst (ECSA), Computer Hacking Forensics Investigator (CHFI), Certified Chief Information Security Officer (CCISO), among others. EC-Council Foundation, the non-profit branch of EC-Council, created Global CyberLympics, the world's first global hacking competition. EC-Council Foundation also hosts a suite of conferences across the US and around the world including Hacker Halted, Global CISO Forum, TakeDownCon, and CISO Summit.
For more information about EC-Council, please see http://www.eccouncil.org.