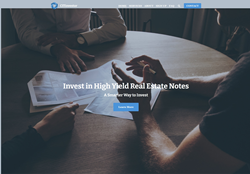 Take real estate investment to the next level with real estate notes: no more tenants, no more repairs, no more property taxes or insurance.
CARSON CITY, Nev. (PRWEB) December 01, 2020
Citinvestor is developing a streamlined real estate platform where accredited investors can choose pre-vetted projects they want to include in their portfolio. Unlike traditional REITs, Citinvestor's real estate investments can earn investors up to 12% in a year.
Citinvestor identifies and acquires pools of mortgage loans at a significant discount to the current market value. The investment process provides highly competitive returns with excellent cash flow to Citinvestors.
Real estate is all about location. Citinvestor applies AI analytics on market data to determine areas with rising market prices to protect its investment. Citinvestor technology solves inefficient, fragmented, and opaque real estate private lending with big data and AI technology. By combining its advanced analytics with old-fashioned crusty eye reviews, Citinvestor provides access to high-yield real estate note portoflios that provide exposure to the real-estate market without the traditional headaches of real estate property ownership. Retail investors can now fractionally invest in real estate, and avoid the headaches of dealing with tenants, repairs, property taxes or insurance.
Citinvestor work with trusted private lenders from coast-to-coast, review lender's track record, manually underwrite their loans, and perform old-school boots-on-the-ground valuation leading to high-quality investment and return for our investors.

Performing Real Estate Assets: Investment in loans backed by real estate with strong consistent payments by homeowners.
High Equity, Low Risk: Investment is secured by real estate with high equity. This equity safeguards investment in case the home owner misses a payment, or we have to sell the property. In some cases more than the unpaid principal balance can be recovered.
No operational Burden: Unlike owning investment properties, through our home loan investment investors collect monthly payments while the home owner cares for the property. No more tenants, no more repairs, no more property taxes or insurance.
Citinvestor's cutting edge products are patent-pending. Citinvestor uses the revolutionary IP solutions for documenting its inventions using the TrustyIP solutions. Our IP submissions are then perfected and patented by the lawyers at the Patent Law Office, PC.
Mary Kimani, product manager at Citinvestor, noted that "Citinvestor specializes in the acquisition and management of real estate notes which offer higher rates of return than available in bank accounts and many other forms of investment. We are excited by the launch and look forward to an exciting 2021."