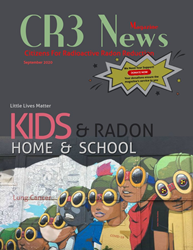 Eventually COVID-19 will go away ... Radon will still be there.
WATERLOO, Ill. (PRWEB) October 01, 2020
With the announcement of the September issue of CR3 News Magazine dedicated to radon and children going to school and studying from home, it has become even more important to provide education about improving indoor air quality in buildings and homes since the beginning of the COVID-19 pandemic. The amount of time being spent indoors has increased; and with the approach of winter, that amount will be even higher!
Radon is a radioactive gas that forms naturally when uranium, thorium, or radium (which are radioactive metals) break down in rocks, soil, and groundwater. Radioactive radon gas exposure occurs primarily from the seepage of the gas into structures through cracks in concrete walls, floors, and openings around sump pumps and plumbing pipes. All schools and homes should be tested and mitigated since children spend a large part of their day in school buildings and their homes.
With the COVID-19 pandemic looming, CR3 created new educational awareness National Radon School & Home Study Calendar that will inform school children and can be used as a teaching tool. The calendar was developed from past winners artwork submitted to the yearly National Radon Poster Contest held by the the Conference of Radiation Control Program Directors (CRCPD), the American Lung Association, and State Radon Programs. Schools from all 50 states, U.S. territories, tribal nations are encouraged to participate in the art competition. Winners and runners-up in each state, territory, tribal nation, and DOD Schools are selected; and their posters are then entered into the national contest.
The CR3 National Radon School & Home Study Calendar is expressly placed at this time for school age children, their parents, and school officials to be educated about the risks of radon in their family homes and schools. What's even more special about this calendar is the colorful and insightful illustrations are drawn by students, themselves across America. "This calendar shows everyone that our children are concerned about having our homes and schools protected against this silent killer, radon. The resounding message from the CR3 school calendar on radon is that schools, daycare facilities, and homes should be tested for radon especially in this COVID-19 environment. Every home, school, and daycare center should be tested for radon now. Radon induced lung cancer is preventable and our children are aware and care about radon testing. CR3 stands for Citizens for Radioactive Radon Reduction; however, in light of this incredible school calendar, CR3 could stand for 'Children' for Radioactive Radon Reduction. This calendar should go to every school and home. Our children have spoken and we should listen," said Nate Burden, Physicist and President of PA AARST.
"Maybe if we spend more time educating the younger generations about environmental issues such as radon gas, they will rise up to be heard and more attention will be paid to mitigating the radon problem!" said Jackie Nixon, CR3 Marketing Director and PA Cancer Survivor.
According to the Evict Radon confederation of Canadian University Scholars, "Radon Exposure and Children", children still have developing organs. Rapidly growing tissues and cells are very vulnerable to DNA damage from radiation exposure.
"With awareness and education of the danger of radioactive radon gas exposure, we will change how we think about the safety of our home, school, and workplace environments and take action to ensure and provide healthy indoor air quality." Gloria Linnertz, Director, Citizens for Radioactive Radon Reduction
#LungsWorkFromHome
CR3 News Magazine 2020 VOL 4: September "Radon, Schools & Home Study"
Direct Link: https://joom.ag/3DAC
CR3 News Magazine Newsstand: https://newsstand.joomag.com/en?q=CR3+News+Magazine
Facebook: https://www.facebook.com/citizens4radonreduction.org
info@citizens4radonreduction.org