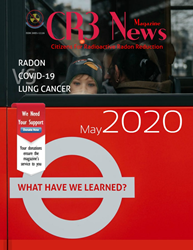 "If you're getting COVID, and you have been breathing polluted air, it's really putting gasoline on a fire..." Francesca Dominici, Harvard Biostatistics
WATERLOO, Ill. (PRWEB) May 05, 2020
As major radon advocates who educate homeowners and property owners about the dangers of radon gas and its deadly effects, COVID-19 has raised a new challenge for CR3 to encourage those working from home to be sure to test their residence for radon gas. Additionally, with children completing their school year at home and many of them working in family rooms and ground-floor offices, CR3 recognized the need for immediate and increased education that encourages people to test for radon and "at least" know their levels.
CR3 News Magazine's 2020 Medical Issue took on the subject of Radon vs COVID-19 to point out the similarities in symptoms and what must be done to improve both situations through mitigation.
Dr. Chrys Cronin, Muhlenberg College, Assistant Professor and Director of Public Health stated in the issue, "We are willing to wear masks at the grocery store, stay home from work, and shut down businesses to stay safe from COVID-19, yet only a small percentage of people in the U.S. test their homes for deadly radon gas."
"If we stop our efforts to bring about awareness now, we will be doing a huge injustice to everyone ... especially children!", Gloria Linnertz, CR3 Director stated.
"Our efforts to inform parents about testing U.S. schools have been an ongoing initiative," says Jan Fisher, Radon Supplies Inc. "As a parent, along with testing your home, asking your child's school if radon testing has been done is a major step in the right direction."
Citizens for Radioactive Radon Reduction will be dedicated to assisting homeowners by continuing to deliver information regarding radon through stronger advocacy efforts including awareness regarding COVID-19, Radon and Lung Cancer to the new work-from-home community in the face of this global challenge.
#LungsWorkFromHome
CR3 News Magazine: VOL 3: MAY Medical - Radon vs Covid-19
Direct Link: https://joom.ag/7CWC
CR3 News Magazine Newsstand: https://newsstand.joomag.com/en?q=CR3+News+Magazine
Facebook: https://www.facebook.com/citizens4radonreduction.org
info@citizens4radonreduction.org