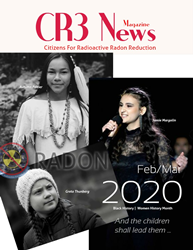 "Human health is strongly linked to the health of ecosystems, which meet many of our most critical needs." ... Maria Neira, World Health Organization
WATERLOO, Ill. (PRWEB) February 16, 2020
"This unique issue is a celebration of indigenous women and children, and their contributions to climate change … specifically how climate change affects radon gas levels." says Jacquelyn Nixon, Publisher. "Our number one goal is to provide additional information as to why everyone should test their homes, schools and workplaces for radon gas and mitigate if levels are high. Empowering the public with additional knowledge can be key to their willingness to perform a radon test. This is a must read!"
Typically climate change is incorporated as part of environmental campaigns and is perceived as separate from the radon issue. The awareness of how it affects radon is unrecognized territory, but deserves acknowledgement. Radon is the second leading cause of lung cancer and number one cause among non-smokers. With over 21,000 deaths per year, new ways of educating the public should be considered.
A consistent radon campaign builds expectation and familiarity in one's audience. With new reasons to test, the information may gain increase listeners and radon testing.
Finally, CR3 would like to honor all of the young female climate change activists who stood up for what they believed in and worked toward a goal to improve our quality of living. When the children rise up and protest, it's time to truly listen.
As Gloria Linnertz, Dir of CR3 said, "Together, we can create our future."
2020 Issue CR3 News Magazine: Black & Women History Months
Direct Link: https://joom.ag/NWxe
CR3 News Magazine Newsstand: https://newsstand.joomag.com/en?q=CR3+News+Magazine
Facebook: https://www.facebook.com/citizens4radonreduction.org
info@citizens4radonreduction.org