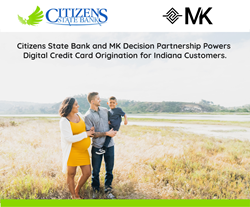 It's clear from a technology perspective, MK Decision focuses on the needs of the end-user.
SAN DIEGO (PRWEB) September 22, 2020
MK Decision (MK) announced that Citizens State Bank, a $670 million-asset community bank in Indiana has selected MK's Credit Card Origination System (CCOS) to offer their customers an enhanced digital onboarding experience. MK's CCOS features a mobile-first, online credit card shopping and application experience.
"With MK's solutions, we can offer our customers a clean user interface that is mobile responsive," said Director of Data Analytics & Marketing at Citizens State Bank Justin Dunmyer. "Throughout our partnership, I have seen products develop quite quickly. MK really has the right thought process on the future of banking. It's clear from a technology perspective, MK Decision focuses on the needs of the end-user".
Citizens State Bank was introduced to MK's credit card onboarding workflow through its trusted partner, ICBA Bancard. With SalesFunnel, MK's descriptive product-detail landing pages, the bank's customers can make informed decisions on the financial products they apply for. AppFlow leads customers through an intuitive, paperless application process. Once completed, customers electronically sign disclosures with SecureSign, and safely submit their application with SecureTransfer. Customers are automatically sent Messaging with status updates.
Citizens State Bank has affirmed their dedication to their customers by offering digital access to credit amidst the COVID-19 global pandemic. "Citizens State Bank balances the line between tradition and innovation. With nearly 150 years of banking experience, they recognize the benefit of providing customers online access to essential financial products," MK Chief Revenue Officer Jonathan Benamoz said.
With the future in mind, Citizens State Bank embarked on the road to digital transformation with MK by their side. Citizens State Bank is motivated by MK's innovation, drive to exceed customer expectations, and commitment to fulfill the bank's requirements. Empowered by MK's solutions and team, Citizens State Bank has successfully delivered their valued customers around-the-clock service for credit card products.
About MK Decision
MK Decision's mission is to help community financial institutions thrive by receiving more deposits and more loans. With a commitment to strengthen local economies, MK's platform gives community financial institutions a competitive advantage through simple, beautiful customer experiences and streamlined banker workflows. The MK platform supports a variety of financial products including checking & savings accounts, credit cards, and consumer, commercial, small business, and indirect loans. So far, MK has helped over 200+ community banks acquire customers online. The company was founded in 2015 and is headquartered in San Diego, California. For more information, visit http://www.mkdecision.com.
About Citizens State Bank
Citizens State Bank is locally-owned and has offered a full range of financial services in Central Indiana since 1873. Our mission is to help our clients, co-workers, and communities succeed. We are dedicated bankers who live and invest in the communities we serve. To learn more, stop by one of our banking center locations, call 888-529-5450, or visit http://www.mycsbin.com.