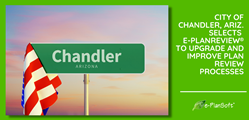 The merits of the cloud-based model combined with the overwhelmingly positive experience that the City has had with e-PlanCheck made the decision to continue with e-PlanSoft solutions an easy and logical choice.
IRVINE, Calif. (PRWEB) September 01, 2021
e-PlanSoft™ today announced that the City of Chandler, Ariz. has selected e-PlanREVIEW® (EPR) as its next electronic plan review solution.
The upgrade to e-PlanREVIEW will transition the City's plan review processes to cloud-based operations. The City currently performs plan reviews using e-PlanCheck®, e-PlanSoft's on-premise predecessor to e-PlanREVIEW. While e-PlanCheck enabled the City to perform plan reviews in an efficient, paperless process, the product has reached its end of product lifecycle, so an updated solution was imminent.
The City of Chandler had adopted e-PlanCheck in 2016, primarily to move to a paperless model of plan reviews. The process was made even more efficient through its integration with its Accela back-office solution. The on-premise, integrated solution has served the City well, and City leaders look forward to the advancements available through cloud-based e-PlanREVIEW, which will be integrated with its Accela Civic Platform.
When considering the coming need to replace e-PlanCheck, Derek Horn, Director of Development Services, recognized the potential of e-PlanREVIEW, as well as the merits of the cloud-based model. These factors combined with the overwhelmingly positive experience that the City has had with e-PlanCheck made the decision to continue with e-PlanSoft solutions an easy and logical choice, and Horn readily championed the initiative to upgrade. The proven advantages of EPR supports the City's ongoing commitment to provide top-level service to its constituents.
The upgrade will afford the City much faster uploads, which can be performed in a single action, rather than page by page, and enhanced functionality and speed. Additional benefits include cross-department collaboration, and a hosted environment, which will move the process of product updates from on-site downloads, to automatically pushed updates, saving time and minimizing downtime.
"We're looking forward to our transition to e-PlanREVIEW," stated Michael Rose, IT Applications Manager at the City of Chandler. "We've had a great experience using e-PlanSoft's legacy product e-PlanCheck and are excited to move into the next generation of electronic plan review software from e-PlanSoft. Our users are pleased to keep the benefits of the solution they've had such success with and to add the enhanced speed and functionality of e-PlanREVIEW."
The City of Chandler is substantially built out, so current projects involve expanding upward and reallocating buildings to multi-use purposes, such as businesses and dwellings in the same structures. Over the last year, nearly 8,000 projects were submitted to e-PlanCheck, and it was used for more than 9,700 documents reviewed.
"We are happy to be an important part of the City of Chandler's ongoing progress to even more efficient plan reviews," stated Kalib Drake, Vice President of Sales and Marketing at e-PlanSoft. "The City sets an excellent example of an agency that takes action to provide top-level service to its constituents and we are honored to provide a key component in its strategy."
About Chandler, Ariz.
Chandler, Arizona has built a reputation as a Community of Innovation. Life in Chandler goes beyond a thriving and dynamic business community with progressive entrepreneurship. Known for its rich diversity, the City offers an outstanding quality of life for all generations with great schools and recreational opportunities. Chandler has grown to become Arizona's fourth largest City with a population of more than 268,000. Chandler has been named one of the nation's Best Places to Find a Job and Best Cities for Women in Tech. The City also is one of the safest communities in the nation and boasts AAA bond ratings from all three national rating agencies, one of only 40 communities to achieve this distinction. For more information, visit the City website, or connect with the City on social media.
About e-PlanSoft
e-PlanSoft™ develops industry-leading cloud-based electronic document review software that assists governmental agencies, construction and manufacturing industries, developers, and owners with their plan review, design review, product review, construction, and asset review management in real-time. http://www.eplansoft.com.