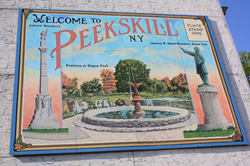 Peekskill offers something for everyone – from history buffs and art enthusiasts to foodies and nature lovers, illustrating just how a small city can be the ideal place to live, work and play.
PEEKSKILL, N.Y. (PRWEB) February 15, 2019
2018 was a year of substantial economic development and business growth in the City of Peekskill with many that range from culinary, shopping, banking, attractions and more. City of Peekskill Mayor Andre Rainey sees that trend continuing in the year ahead as well as increased opportunities for community involvement.
"Peekskill offers something for everyone – from history buffs and art enthusiasts to foodies and nature lovers, illustrating just how a small city can be the ideal place to live, work and play," said Mayor Rainey. "We welcome businesses to experience firsthand our strong sense of community, abundant resources and economic climate where they can prosper."
Situated just under one hour north of New York City on the banks of the Hudson River, Peekskill is leading the way in economic redevelopment within the County with new luxury and affordable housing. The first building at The Lofts on Main Street, which was fully rented before completion, welcomed residential tenants and businesses in 2018.
The first tenants have moved into the Fort Hill rental complex,and the Gateway condo complex is almost sold out. An exciting component of the larger Fort Hill project, the former chapel and convent at Fort Hill is currently being rehabilitated and reconstructed into a destination inn, spa and restaurant/catering facility.
The City has added a wide assortment of commerce to its eclectic downtown and continues to invest in local businesses and offers financial assistance through its Industrial Development Agency to qualifying projects.
The City of Peekskill's new businesses in 2018 include:

12 Peekskill Lounge (12 North Division Street)
Arts10566 Space (2John Walsh Boulevard)
Cynthia Sanchez Beauty Salon (North Division Street)
Community Home Health Care (910 Main Street)
Dunkin Donuts (1101 Main Street)
Emperors Buffet (Beach Shopping Center, 1837 Main Street)
The Evolution Gallery (922 Main Street)
Family Dog Yoga (12 North Division Street)
Good Karma Yoga Studio (900 Main Street)
Joseph Thompson, Architect (1006 Brown Street)
Little Kings n Queens Daycare (50 Dayton Lane)
Manzer Landscaping (1060 South Street)
The Pantry at Peekskill Brewery (47 South Water Street)
Peekskill Central Firehouse (1411 Main Street)
The River Outpost Brewing Co. (5 JohnWalsh Boulevard)
SK Eyebrow Threading (Beach Shopping Center, 1877 Main Street)
Trustco Bank (20 Welcher Avenue)
Ty's Bread Basket Bake Shop (922A Main Street)
"2018 brought significant changes and improvement to the City of Peekskill," said Mayor Rainey. "Our new 30,300 square-foot, state-of-the-art Central Firehouse focuses on quick response and firefighter health and safety. Gun buyback efforts resulted in 185 guns being turned into the police and major capital streetscape programs on South, Division and Main Street were completed adding to the beauty of the downtown."
The City upgraded its computer infrastructure and now boasts a modern computer network geared to meet present and future needs. Their new telephone system, which pairs with the onsite computer infrastructure, is no longer dependent on outside networks or third party vendors.
Through an aggressive leak detection policy, the Water & Sewer Department located and addressed losses in the system which have resulted in a 15 percent reduction in water treated at the plant with an annual saving of approximately $350,000 to water consumers.
An impressive $20,000 was raised for the Kiley Youth Center in 2018 and the City's Youth Bureau received a $50,000 grant from Senator Terrence Murphy for much needed building renovations.
Mayor Rainey continued, "We recently welcomed a new school superintendent, Dr. David Mauricio, and are excited about the collaboration between the City and the School District. Recognizing the challenges young men of color face, Peekskill has become an "MBK" city (My Brother's Keeper). We also partnered with empowerYOU, which strives to give all students the tools they need to be successful, and Feeding Westchester to end hunger in our community. This is just the beginning."
In 2019, Peekskill will see the return of its Art Industry Media (AIM) initiative, a newly-formed division of the Hudson Valley Gateway Chamber of Commerce that promotes the City and the surrounding Chamber territory as a media hub for the lower Hudson Valley. The months ahead will also bring the relocation of Bantam Tools from Berkley, California to Peekskill as well as a possible Boys and Girls Club.
A new 2.7 mile waterfront trail will be among the longest uninterrupted municipal waterfront trails in the County of Westchester. Other priorities include an improved parking design and the installation of two new electric car charging stations.The City has also engaged Honeywell Corp. to perform energy audits and improvements to all City buildings to achieve energy and financial savings.
The second building at The Lofts on Main Street is scheduled for completion later this year along with Fort Hill's building two and three as well as their destination inn, spa and restaurant/catering facility. The Balter Project on Main Street, an affordable housing building, is currently under review for potential construction in 2019.
"This year we continue to focus on the City's youth with education and programming, attracting more developers and businesses, continuing to create affordable housing, ensuring that taxes stay below the cap, and keeping our city litter-free," explained Mayor Rainey. "New York State Senator Pete Harckham is currently planning to relocate his headquarters to Peekskill, which is certainly a plus for residents and will continue to open up doors for our community."
One specific initiative aimed at Peekskill's youth is the New York State Conference of Mayors' (NYCOM) "If I Were Mayor" essay competition. The contest, which has a deadline of March 6, is open to all currently enrolled eighth grade students. More information can be found on NYCOM's website, http://www.nycom.org/eighth-grade-essay.
"The essay contest is key to Peekskill's youth in that it creates a greater sense of what these students want to see happen in their city," said Mayor Rainey. "It gives them the opportunity to step outside of their textbooks and into the real world – and may even encourage some to one day run for office."
The City of Peekskill is located at 840 Main Street in Peekskill, NY and can be reached at 914-737-3400 or by visiting http://www.cityofpeekskill.com.
About the City of Peekskill
The City of Peekskill is a thriving, historic community located on the banks of the Hudson River. Just under one hour north of New York City, Peekskill is culturally and economically vibrant with abundant natural resources due to its location on the river and at the gateway to the Hudson Highlands. The City's pedestrian-friendly downtown is buzzing with an array of dining and entertainment establishments. Offering artist lofts, studios, galleries and museums, Peekskill is home to a growing arts community and has no shortage of arts activities. The waterfront, with over three miles of continuous parkland, is a regional destination with a variety of active and passive recreation, as well as breathtaking views of the Hudson River. For more information, visit http://www.cityofpeekskill.com.